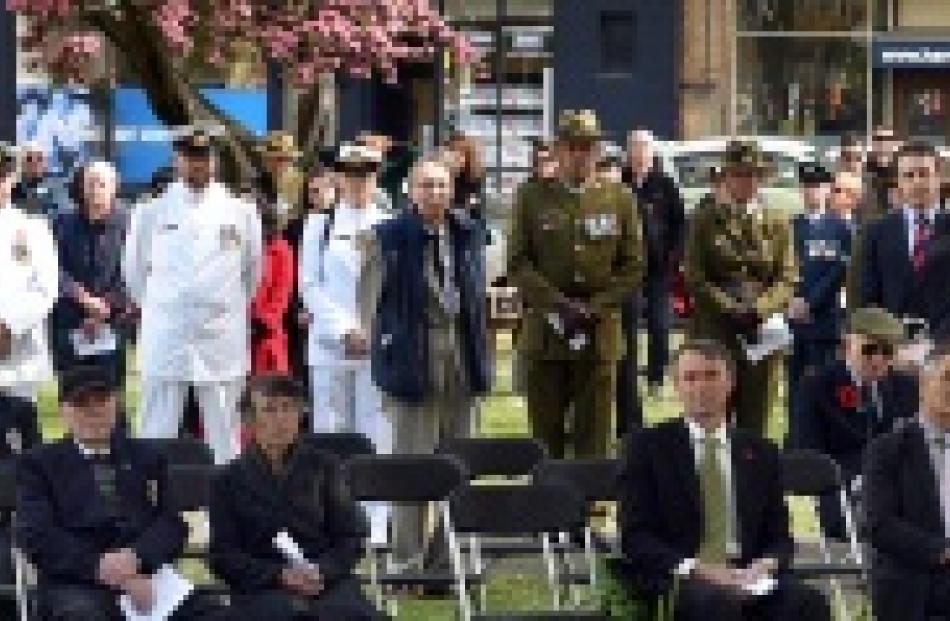 As hundreds of people gathered at Dunedin's Queens Gardens yesterday to mark the end of World War 1 nearly 100 years ago, a message of hope was heard.
The ceremony marked the 97th anniversary of the signing of the armistice which signalled the end of the war, on November 11, 1918.
Guest speaker Chief of Navy Rear-admiral Jack Steer said memorial ceremonies brought him no joy and he had ''a strong desire never to see the world engulfed in conflict again''.
''Modern war does not spare the victor or the vanquished. It visits destruction on both, alike,'' he said.
''The only complete assurance of us surviving World War 3 is to halt it before it starts.''
Nearly 60,000 New Zealand troops had been still involved in World War 1 when it ended, with another 10,000 training at home, he said.
In total, 12,483 New Zealanders fell on the Western Front between 1916 and 1918.
''The armies of the First World War fought to defend our liberty.
''They knew that liberty is worth defending and that tyranny is worth defeating,'' he said.
''Armistice Day is a monument to victory. It is also a symbol of failure. We won a war and lost a peace.''
A 25-pounder gun was fired on the 11th chime of the Municipal Chambers clock at 11am. That was followed by a minute's silence and a second firing of the field gun.
Balmacewen Intermediate School and the Flagstaff Community Choir sang New Zealand's first anthem, God Save the Queen; the hymn In Flanders Fields; and the present national anthem God Defend New Zealand.
A second gun, the Robbie Burns cannon in the upper Octagon, was fired by gunner Dave Price simultaneously with the 25-pounder at Queens Gardens.
''We were very pleased ... it's all about reflection and remembering,'' he said.
Heriot School pupil Will Pringle (11) said the bang from the cannon was the loudest noise he had ever heard.
The noise and shock wave lurched his upper body forward, Mr Price said.
''It was loud.''