Paula says she was a "childish'' and vulnerable 17-year-old when Fr Magnus Murray first came into her life in Sydney.
Fr Murray had been sent to Australia for counselling following complaints about his offending in Dunedin, and was supposed to be under the supervision of Archbishop James Carroll.
But in 1972, just before Fr Murray's arrival in Sydney, Paula and her Catholic family also arrived from England.
In 2005, she flew to New Zealand to give a statement to police - released to ODT Insight under the Official Information Act - which alleged the relationship which followed constituted rape and abuse.
In it, she first met Fr Murray at a girlfriend's house, where he was playing Scrabble with the women and her 11-year-old brother.
Fr Murray was introduced to her as a Catholic priest, but his reasons for coming to Sydney were not revealed.
Soon after, he was invited to Paula's family home, where he built up a relationship with the family which was to continue for years.
"Gradually [Fr Murray] just became part of the family.''
In 1974, Paula decided to enter the convent to become a nun, but by 1976 she was disillusioned and decided to pull out, angering her parents.
Fr Murray was there to support her, but the support soon became physical - and then sexual.
"I was very confused when it went further, I felt it was wrong but he was a priest,'' she told police.
The sexual relationship was to continue for years: at home, in a flat and the presbytery, at times despite her objections, she told police.
The contact continued even after Fr Murray returned to New Zealand, through letters and when Fr Murray visited Australia or Paula visited New Zealand.
The sexual relationship stopped in the early 1980s, even though the visits continued, and she married her husband, David, in 1985.
The couple honeymooned in Waihi, staying with Fr Murray at the presbytery, but still she said nothing.
"We ignored it. It was as if nothing happened. I took my lead from [Fr Murray] in that.''
Later, Fr Murray was asked to baptise their son in 1991, and to babysit all three boys, when he visited Australia.
"They called him Uncle Max,'' she said.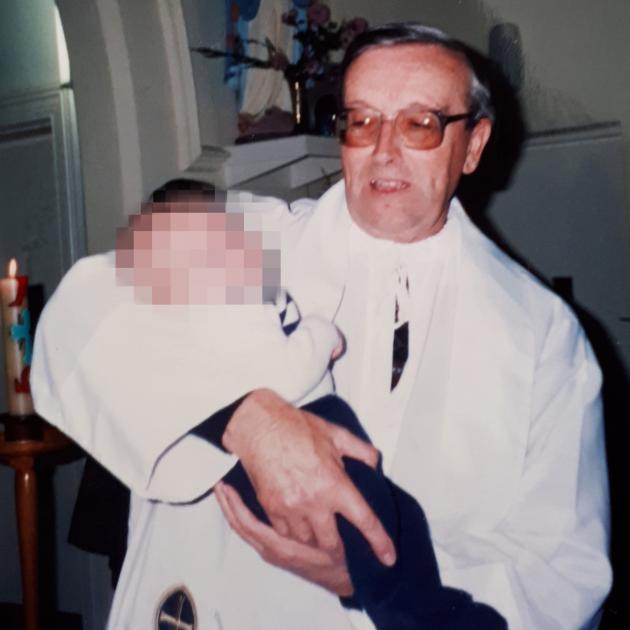 Eventually, the couple received a chilling warning from a former priest in Australia, who rang to tell them about Fr Murray's dark past in Dunedin.
"He said he was concerned with Max's closeness to our boys.
"I was horrified, I was ashamed, I was frightened for my children, more than anything,'' she said.
Paula told ODT Insight he could recall Fr Murray taking photographs of the couple's sons, naked, after they had gone for a swim.
"Max used to sit in our home and he'd have one of the children on his lap, or next to him, and he'd be stroking their thighs, because they were in shorts.''
Asked why she had continued to have contact with Fr Murray for so long, Paul said it amounted to "Stockholm syndrome''.
"I didn't want anyone to know what had happened to me.''
She flew to Dunedin to attend Fr Murray's sentencing in 2003, and afterwards went to police to make her complaint.
Fr Murray was interviewed in jail, but maintained the relationship was consensual and denied any abuse of power - despite his priestly vow of celibacy, police notes showed.
Police concluded a prosecution would not be successful, despite suggestions his actions could constitute "indecent assault'', the police file showed.
Paula said she understood the outcome.
"I knew they wouldn't be able to . . . I was at that awkward age where the grooming started when I was still a child, but the abuse started when I was an adult, legally.''
Keeping her secret for so long has cost Paula and her husband dearly, as she battled mental illness and was hospitalised repeatedly.
Worst of all, Fr Murray has robbed her of her faith, she said.
"He has destroyed entire lives, and in my case, part of my life - a great part of my life, actually - having taken away the connection I had with Catholicism.''