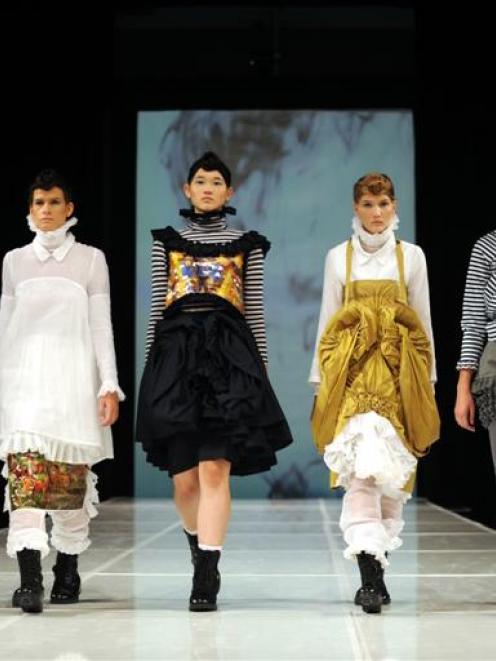 Australians have once again snaffled top honours from the hands of New Zealanders, this time at the iD International Emerging Designer Awards.
Four of the top prizes from last night's show, attended by about 1300 people, went to designers from over the ditch, with the remaining two going to those from further afield.
Twenty-eight emerging designers took part in the awards, with Carolina Barua, from the Royal Melbourne Institute of Technology, winning the Peroni first prize of $5000 for her collection "S'swell".
The five ensembles included an apron in golden silk dupion, a cotton sateen skirt and lenticular printed pieces.
The 25-year-old, born in Peru, said the collection began as a "historiographical study into the documentation of socio-political events, the collection emerged from research into representative fashions and their semantic qualities".
Images were gathered into an archive which she used as "reference points to which processes of distortion were applied, such as elongations, restriction, spin and transfiguration".
She felt "very honoured that the judges have time for these kind of events - it's really important to support up-and-coming designers".
Guest judge and award-winning British journalist Hilary Alexander described the collection as "inventive and incredibly clever".
It had "an intriguing blend of hand techniques and new technology", she said.
Patricia Kapeleris, of the University of Technology, Sydney, won the Caffe L'affare second prize of $3000 for her collection "Urban Blight".
Fellow graduate Natalia Gryzbowski won the Strawberry Sound third place $1000 prize for her collection "Hybrid".
University of Applied Arts, Vienna, graduates Tanja Bradaric and Taro Ohmae won the Golden Centre Mall $1000 prize for the most commercial collection for "Pictures Seen".
Shenkar College of Engineering and Design, Israel, graduate Renana Krebs won the Charles Parsons prize worth $500 for "Greenhouse Effect".
Royal Melbourne Institute of Technology graduate Chris Ran Lin received entry to a prestigious fashion event with the Mittelmoda prize.
The judging panel, which also included Australian fashion authority Nicholas Huxley, Paris-based designer Lutz Huelle and his business partner David Ballu, and Dunedin designers Tanya Carlson and Margi Robertson, was impressed with the creativity, craftsmanship and exploration of new methods of binding garments shown by the finalists.
Mr Huxley, however, said a focus on "intelligent design" at times neglected the "whole package".
"Designers need to think about proportion and fit and making the most of their fabrics," he said.