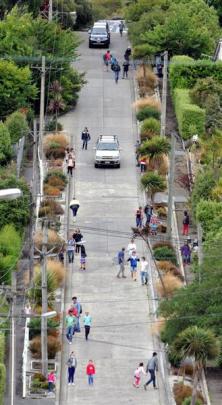 The lack of public toilets close to Baldwin St is ''embarrassing'' for what is a top tourist destination, Cr Neville Peat says.
Several councillors raised concerns about the council provision of public toilets in the city, with the lack of toilets close to Baldwin St in particular highlighted.
Council group chief financial officer Grant McKenzie said $200,000 was allocated for a ''solution'' in the Octagon, with another $150,000 for public toilets allocated in the 2018-19 financial year.
Council staff were also working on updating a 2008 report on which areas most needed public toilets.
Cr David Benson-Pope said waiting until 2018-19 for a toilet at Baldwin St was too long to wait.
''Clearly, we are going to have to put more money into the area.''
Cr Kate Wilson suggested staff look at the option of the council paying to use private toilets - instead of building new facilities - in areas where there was a need.
Cr Peat said Baldwin St should be the first priority, as it was ''quite embarrassing'' there were no public toilets at what was a ''top'' tourist destination.