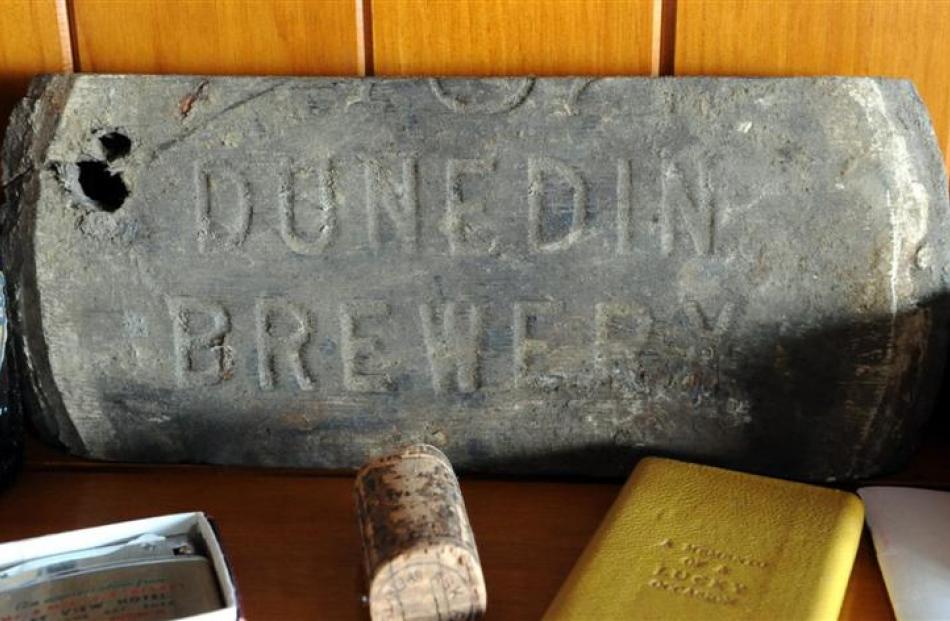 A true southern man, Pete Moffat does not just drink Speight's, he compiles a history of the Dunedin brewery by collecting anything and everything associated with it.
Born and raised in Dunedin, the 44-year-old started his collection nine years ago when he moved back to the city from overseas.
As a young schoolboy, he would walk past the Speight's Brewery in Rattray St every day, and it has become an organisation he stays loyal to.
Mr Moffat loves drinking Speight's beer and has almost always preferred its Gold Medal Ale to any other.
''When I first started drinking, I drank DB [Dominion Breweries] but not for long. I soon changed allegiances to the good drop.''
He started gathering posters, beer labels and clothing then branched out to focus on items of historic and regional significance.
Posters from the 1920s, full beer bottles from the 1930s and even beer duty stamps from the 1860s when the beverage was taxed make up part of his collection.
Other treasures include Speight's couches, flags, keg and crock taps, pens, coasters and drink trays.
He has a photograph of the ''Jas Speight & Co Limited'' employees taken at the City Brewery, Dunedin, in 1922 as well as a Dunedin Brewery Company Ltd match striker for ''old wax vestas [matches]'' from 1920.
Internet auction sites have allowed Mr Moffat's collecting to accelerate. On average he buys, trades or finds an item a week.
''The main thing I collect is beer labels, but if I get my hands on any other stuff that is old or would look good in a home bar, I collect that too.''
With the expansion of his collection has come the desire to preserve Dunedin's brewing history, as well as that of the wider Otago region and even Southland.
Accordingly, Mr Moffat has McGavin and Strachan items as well as more modern memorabilia from Green Man and Emerson's.
New Zealand Breweries grew out of a merger of 10 breweries in 1923, including Speight's, Strachan's and McGavin's in Dunedin.
Speight's was established in 1876 and, by merger time, was the biggest brewery in New Zealand.
The Victoria Brewery, established by William Strachan in 1861, and the McGavin Brewery, established as the Union Brewery in 1882, did not survive the merger for long, however.
Mr Moffat also has relics from the Wilson Malt Extract Co Ltd, which was built in 1920 and closely associated with the Dunedin Brewery.
''Over the years, the collection has got a bit out of hand. If it's branded Speight's or has the three stars on it, I have to have it.''
If he won the lottery, Mr Moffat would build a home bar in which to display his treasures.
His odd Lion brewery posters may even have a place on the wall.
Lately, items from the McDuffs brewery in Dunedin, Invercargill Brewery, Wanaka Beerworks and Wetherstons near Lawrence have come into Mr Moffat's possession.
He boasts about 70 vintage beer bottles, still with their original contents, a further 100 empty antique beer bottles, and close to 500 beer labels.
''Some of them are quite rare, especially to find in good condition.''
Mr Moffat's collecting has yet to reach the point where he must set himself limits.
''I'll worry about that later. At the moment, if I want it, I'll get it,'' Mr Moffat admits.
He is a member of the New Zealand Breweriana and Can Collectors Society as well as the Otago Antique Bottle and Collectables Club.
A favourite item of his is the early 1900s William Strachan and Co stone beer crock he recently acquired.
Mr Moffat says he will always collect, so long as there are brewery items for him to covet.