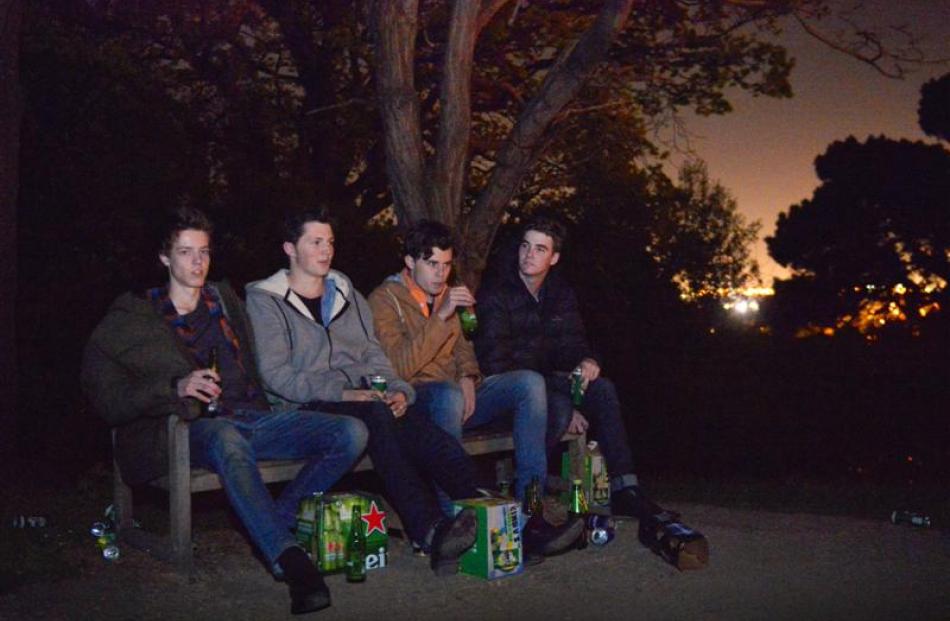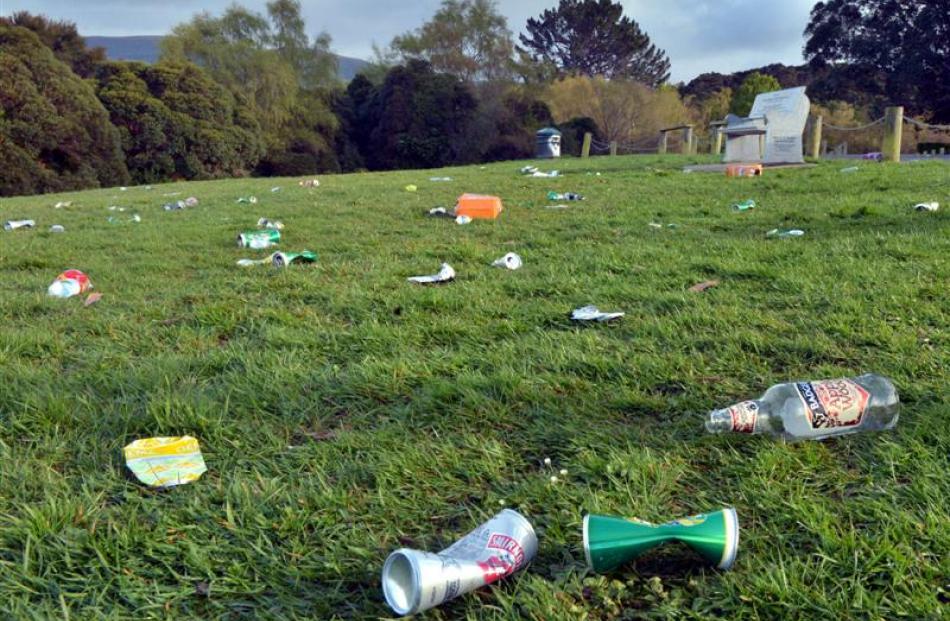 More students than ever are drinking in the shadows of Dunedin Botanic Gardens at night, leaving its staff to clean up the mess the morning after. Tertiary education reporter Vaughan Elder and photographer Gerard O'Brien ventured out to see what happens in the gardens after dark. 
Despite the beginning of daylight saving, it was close to pitch black when we entered the Dunedin Botanic Garden just before 9pm.
We made the trip after I had heard from numerous sources that the University of Otago's introduction of tighter controls on behaviour had caused more students to drink in the garden - away from the eyes of Campus Watch staff.
After about 10 minutes of walking on a Thursday night, and with the help of torchlight, we made our way to a clearing overlooking Castle St which I had been told was a popular spot.
The dark, along with thumping noise from partying in the streets below, meant it was a while before we noticed the dim outline of students drinking on a park bench.
The four first-year Unicol residents, who had boxes of beer with them, were polite and open to sharing their thoughts.
They said they drank at the ''botans'' pretty much every Thursday and Saturday and admitted not cleaning up after themselves on most occasions.
''You start out with the intention of it and by the end of [the night] you don't even know where you are,'' one of the group said. While sympathetic to staff, they felt a crackdown on times when they were allowed to drink in university-run halls, the closure of student bars, and price of alcohol in town meant they had little choice.
''Blame the university,'' one of them said.
Business student Nic McDonald said there was nowhere else to go for first-years, many of who did not know people living in flats.
''We are not going to go and drink on the side of the street, because that's just boring,'' he said.
Saturdays, followed by Thursdays, were the busiest nights at the garden and the groups were sometimes large.
''Last Saturday, there was probably 80 or 90 of us in the botans drinking kegs.''
It was not uncommon for students to play ''possum'' - where participants climb trees and can only come down after finishing their alcohol - and get quite high up the branches.
''[Because] you can't come down until you have finished, you have also got to go to the toilet up there, so you can't be low or you will just get p..... on.''
Computer science student Sam Wildman said stricter rules in the colleges made students want to ''rebel'' and meant more binge drinking as people skolled their drinks before ''kick-out'' times.
The time when drinking students were asked to leave varied, depending on the college. Some let residents drink until 10pm and others forced them out earlier.
They felt the situation would improve if colleges allowed people to drink until later - for example 11pm - after which they could go straight to town.
As we made our way back to Opoho Rd we encountered a group of Cumberland College residents listening to music at the Mediterranean garden - another late-night drinking hot spot.
The group said they were hanging out and not drinking, but as we left their company I noticed there were boxes of beer sitting 10m from them, on the opposite side of the area.
After leaving the botanic garden we drove up to Bracken View, between the garden and Northern Cemetery, where three college residents were drinking, surrounded by bottles and other rubbish left over from a student party held earlier in the night.
The group, who were noticeably more affected by alcohol than the others I spoke to and declined to be named, said between 70 and 100 physical education students had been drinking there before we arrived.
One said it would be better for the university's reputation if they were doing their drinking at the colleges.
''Old people come through here and they see people spewing or doing keg races [where teams compete to finish a keg the fastest]. They don't want to see that.''
After finishing their drinks, it was usual for students to head into town from 10.30pm onwards, when the bars, beginning with Starters Bar, began to get more interesting.
As we were leaving, one of them repeatedly asked us for a ride into town, as his mates interrupted, telling him to shut up.