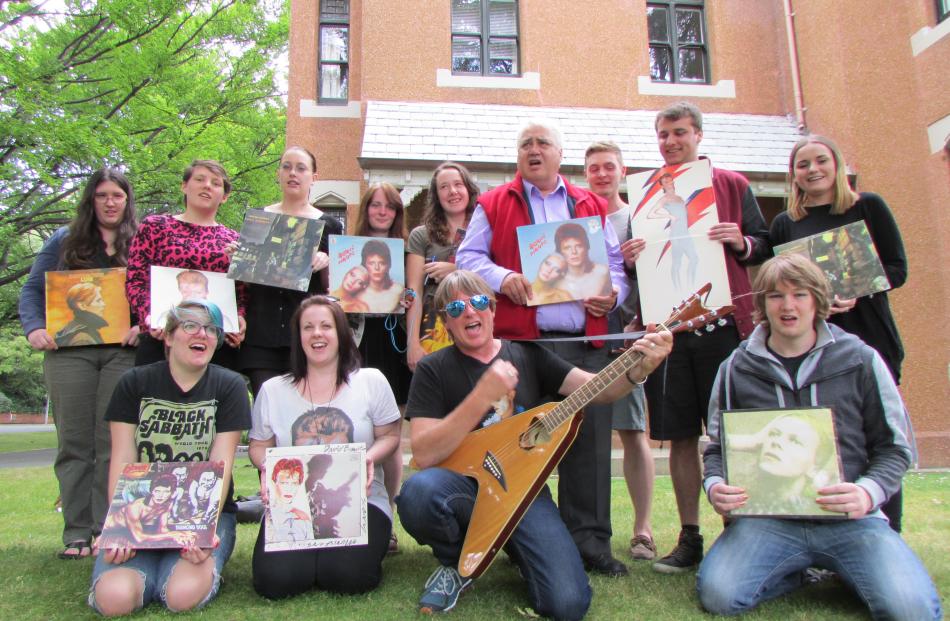 University of Otago Summer School students taking a ''whirlwind tour'' through the music of David Bowie, paused last week to celebrate the singer's birthday.
With Bowie turning 68 on January 8, senior executant lecturer in contemporary music Dr Ian Chapman and his class of 27 keen Bowie fans marked the occasion by singing their own Bowie-style version of Happy Birthday.
It was a fun pause in an intensive six-week summer course covering the whole of David Bowie's musical career, from the 1970s to the present day, as well as his wider impact on society. Dr Chapman said he was particularly excited by the interdisciplinary nature of David Bowie as an academic subject.
''As a figure of academic interest, David Bowie's star has been rising internationally in recent years,'' Dr Chapman''We can have so many different approaches to him, from his music to film, gender, theatre, and fashion.''
To this end, the course would include modules on fashion, taught by the Otago Polytechnic's Dr Margo Barton, and film, media and gender taught by University of Otago staff member Alison Cumming.
''This inaugural Summer School David Bowie paper has drawn students from across the university - not only music students - and a lot are Bowie fans,'' Dr Chapman said.
The paper was Dr Chapman's first foray into teaching at Summer School and he was enjoying having the opportunity to work intensively with one body of students on one topic, he said.
''To have this concentrated time with one body of students is a luxury,'' he said.
''Over the course of this six weeks we will cover the whole of Bowie's career - it's a whistle-stop tour,'' he said.
A long-standing authority on David Bowie, Dr Chapman performed for a time as Bowie-esque character Dr Glam. He is completing a book, entitled Experiencing David Bowie - A Listener's Guide, for US publisher Scarecrow Press.
Dr Chapman is head of the music department's popular contemporary performance (rock music) programme, which has been running since 2000.