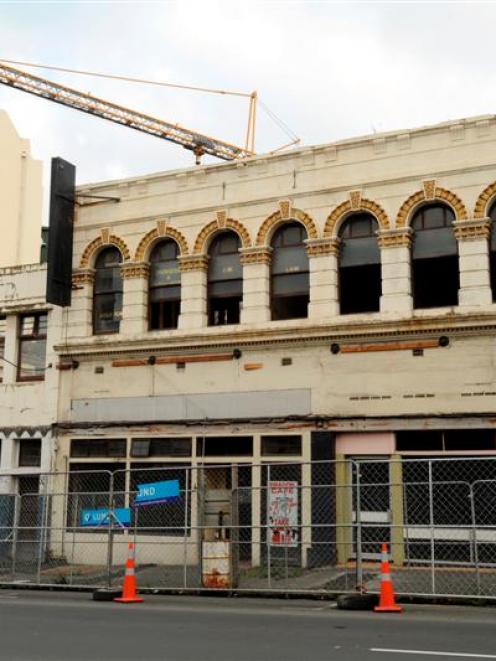 A couple of Dunedin eyesores are about to be demolished.
Scenic Circle Hotel Group director Stuart McLauchlan confirmed a crane that went up behind the N. & E. S. Paterson Ltd and Barrons Buildings in Rattray St this week would be bringing the partially demolished buildings down within "days".
Two separate sections of the 136-year-old Barrons Building collapsed in January 2011, and parapets fell on to the roof causing it to collapse inwards on to the second storey.
There were initially calls to save the historic building, but any hopes were dashed after engineers reported the Barrons Building, which housed the Dragon Cafe, was in danger of collapse and consent was given to demolish it in March 2011.
At the same time, Scenic Circle was given consent to demolish its N. & E. S. Paterson Ltd Building, which shared a wall with the Barrons Building, because it would be left unstable when the other went.
Getting the required permission and the need to work around a joint wall between the N. & E. S. Paterson Building and the building to the west housing the Prostitutes Collective, had contributed to the delay in demolition.
Owner of the Barrons Building, Lincoln Darling, referred queries to Mr McLauchlan, who said the buildings would be brought down at the same time, and the area turned into a car park.