There is uncertainty throughout the South as organisations and event planners cope with the latest Level 2 restrictions. Here is the latest from our staff reporters.
The Maniototo A&P Show, which was to be held tomorrow, has been cancelled after organisers decided rescheduling would be difficult or impractical and could affect other events planned for this weekend.
The Southern Institute of Technology has cancelled this week's Orientation events and University of Otago students' informal "Flo Week' ' parties have been postponed in Dunedin for at least the first half of this week.
Most organisers with events planned for later this week who were contacted yesterday said they would have to wait until direction was given by the Government as to whether they would have to cancel or reorganise planned concerts, shows, sports and personal events across the South coming up in the next weeks and months.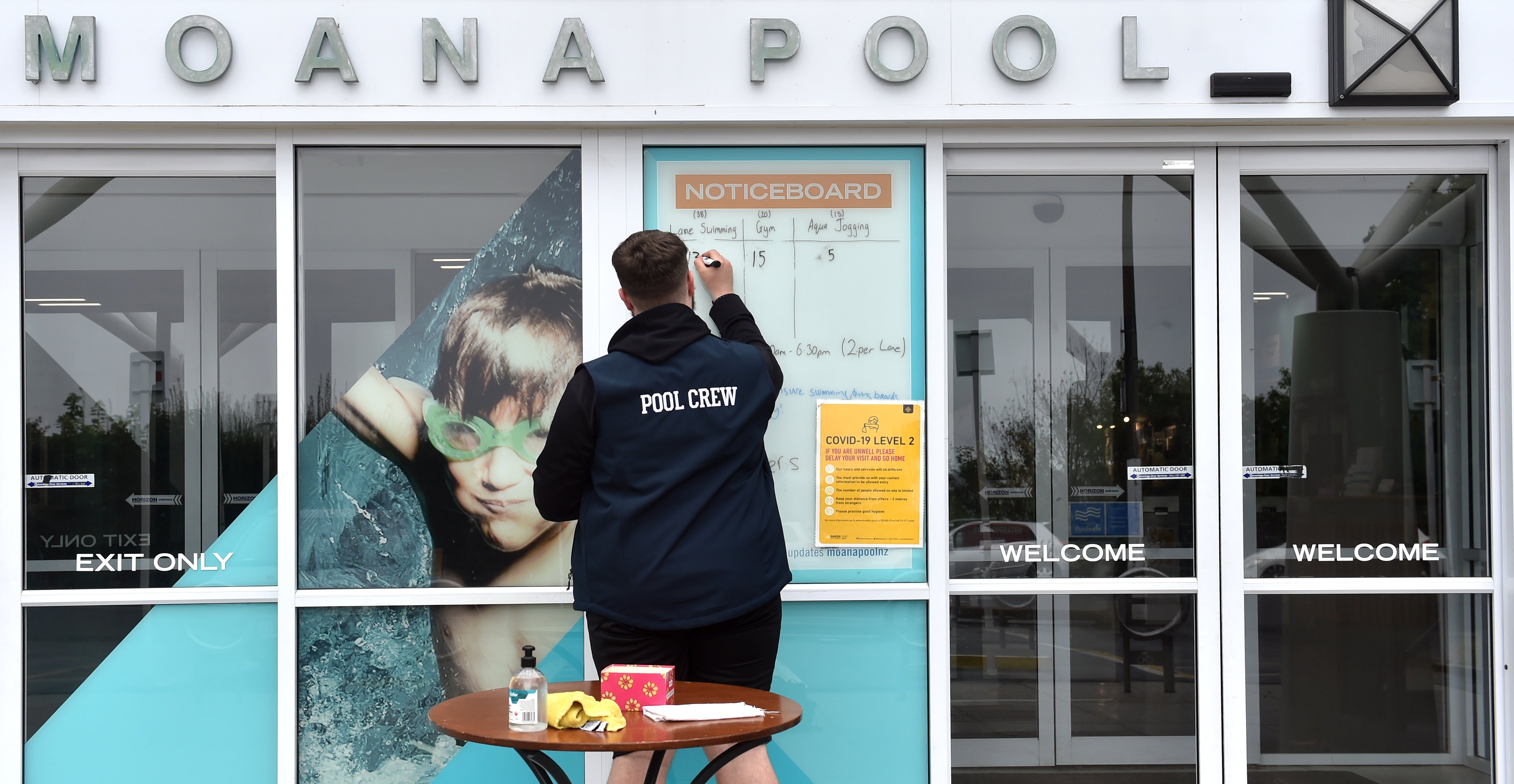 Acting chief executive Maree Howden said the decision to cancel the Southern Institute of Technology's orientation week, which was scheduled to start yesterday was "very disappointing".
"But [students'] health and safety is of paramount importance to us. I'm sure the students will understand that, too."
An Otago University Students' Association spokeswoman said it would wait until later in the week to make a decision about its plan for next week's O Week in Dunedin.
A&P Shows
Maniototo A&P Show secretary Janine Smith said the decision to cancel tomorrow's show was tough.
"We are absolutely gutted."
Rescheduling the show would make it more difficult or impractical for many of those people coming from outside Central Otago to attend, she said
Despite the cancellation, organisers of sister events around the South remained cautiously optimistic.
However, all said a continuation or worsening of the latest Covid-19 alert level would lead to cancellation.
Mt Benger A&P Society president Dick Michelle said the society was still planning to go ahead with the Roxburgh showat this stage.
"We don't think we'll see numbers affected by the situation, or by Maniototo cancelling.
"Obviously, this is the new normal for anyone running a big event, so we're just keeping fingers crossed we can go ahead."
Southland A&P Society vice-president David Sinclair said the society's show would also go ahead during the weekend of March 6 and 7, unless the situation deteriorated.
"Any event of this size is at the mercy of Covid cancellations, and obviously it's essential we put community health ahead of any other priority.
"We're either all in, or all out."
Wanaka A & P Show officials confirmed the same for their event, on March 12 and 13.
Fringe and Arts Festivals
Dunedin Fringe Festival director Gareth McMillan said the change to Level 2 on the same week tickets went on sale for the festival was a "speed bump", but one organisers were prepared for.
Most Fringe events could go ahead under Level 2 with reduced capacity and social distancing.
He said, in preparation for an alert level change or "whatever 2021 throws at us", an online platform was also developed to ensure artists could still perform and entertain audiences.
Tickets would be refunded if that became necessary.
Dunedin Arts Festival director Charlie Unwin said it also had a contingency plan, should Level 2 or 3 come in to place when the April festival was on, which involved releasing tickets in three stages.
Anyone who purchased an A Release ticket, which are limited to 100, would be able to go under Level 2.
B Release tickets would then be released when those were sold out, and the festival would work to deliver a second performance for those holding a B Release ticket.
If no second performance was, or could, be arranged, the tickets would be refunded, he said.
Once the second release of tickets reached capacity, a third release would happen.
Those holding a C Release ticket would be refunded in the event of a move to Alert Level 2, 3, or 4 at that time.
Mr Unwin said sales had been strong so far, and several events had already sold over 100 tickets.
A similar system is in place for Wanaka's Festival of Colour, in April.
Dunedin City Council Services
Most Dunedin City Council services and facilities continued to operate under Alert Level 2, but with some restrictions and conditions in place.
Hours were slightly reduced at the Dunedin Public Art Gallery, Toitu Otago Settlers Museum and Dunedin Chinese Garden, to 10am to 4pm, and physical distancing guidelines and contact tracing protocols were in place.
Many of the interactive hands-on elements of the visitor experience, including child play areas and activities, were not available, and food and beverages will not be served at the garden.
Moana Pool remained open, but for reduced hours and for lane swimming and aqua jogging only. The leisure pool, spa, diving boards and showers were all unavailable.
The pool's gym was from 5.30am to 8.30pm, but workouts were restricted to one hour.
Community pools were also open for lane swimming, but with numbers limited, and Just Swim lessons were cancelled yesterday . Decisions were yet to be made about lessons scheduled for later this week.
The Green Island landfill and kerbside rubbish and recycling collection continue as usual.
Water tankers will continue to supply residents in Waikouaiti, Karitane and Hawksbury Village affected by the recent water issue.
Dunedin Mayor Aaron Hawkins said the return to Level 2 was a reminder of the need to follow health authorities' guidelines to beat back Covid-19 once again.
"We've been here before, and we will get through this again, but its important we all remember the basics and follow the rules.
"This shift in alert levels will understandably be a cause of some anxiety in our community, so we also need to remind ourselves to be kind, be patient and look after each other."
Public transport
Otago Regional Council transport implementation lead Julian Phillips said, understandably, not all bus passengers were prepared with their face coverings yesterday.
The majority of bus users in Queenstown were wearing face coverings, but in Dunedin between a quarter and half of bus users had coverings.
Masks were supplied to passengers on the buses and stock was replenished throughout the day, he said.
Port workers and testing
Port Otago chief executive Kevin Winders said the Dunedin port had stepped up its protocols for hygiene and maintaining separation between workers.
Covid-19 testing ran every Monday and port workers were tested every fortnight, he said.
If a worker was on leave, they would slot in for the following Monday's testing.
Mr Winders said information from that was passed on to the Ministry of Health and this was a requirement for border-facing operations.
South Port, in Bluff, did not respond to a request for comment.
Public Health messages
Southern District Health Board Medical Officer of Health Dr Susan Jack said at this stage there was no reason to believe the virus was in the community in the Southern area, however, she encouraged everyone in the community to remain vigilant.
"If you have any symptoms, remain at home and arrange a test immediately.
"Call 0800VIRUS19 to find the closest/next available slot for testing.
"Stay at home until your test results come through."
The Auckland situation and number of people who travelled South last week for the Burt Munro Challenge, for example, underscored the importance of using the Covid tracer app to continuously scan QR codes to create a record of your movements, she said.
Advice for hospitality and tourist establishments was to remain vigilant.
Any staff showing symptoms should be promptly isolated and tested, and QR codes, manual sign-in sheets, and hand sanitiser should be prominently displayed and available as people enter the premises.
Personal hygiene, including regular handwashing and cough/sneeze etiquette should also be maintained.
"For Southern right now it is a matter of doing the basics, and observing the rules of Covid alert Level 2."
Businesses hit again
Queenstown Lakes Mayor Jim Boult said the move to Level 2 had made a bad situation worse for many businesses in the district.
Tourism and hospitality operators were telling him they were getting cancellations as a result.
"I've already heard of one conference that's been cancelled that was supposed to happen later this week," Mr Boult said.
"It just increases the level of pain.
"I understand completely the Government have no choice but to do what they're doing, but we didn't cause this and we're paying for it."
Following what he described as a "superb week", due to the Burt Munro Challenge, Invercargill Lincesing Trust chief executive Chris Ramsey said the move to Level 2 was like a cold shower.
Mr Ramsey greeted the news with disappointment, but said he understood the Government's measures to deal with the new potential outbreak of Covid-19.
"Based on what happened on Alert Level 2 last year, we anticipate a 20% reduction in revenue and in the social sense, we definitely noticed people's patience and knowledge was tested.
"Probably this is the message we want to get out to the public — please, just be understanding of our staff and the fact they are just following the rules."
He said like everyone else, he hoped the restrictions would be in place for only 72 hours.
"But we are really mindful the decisions are been made are for the greater good."