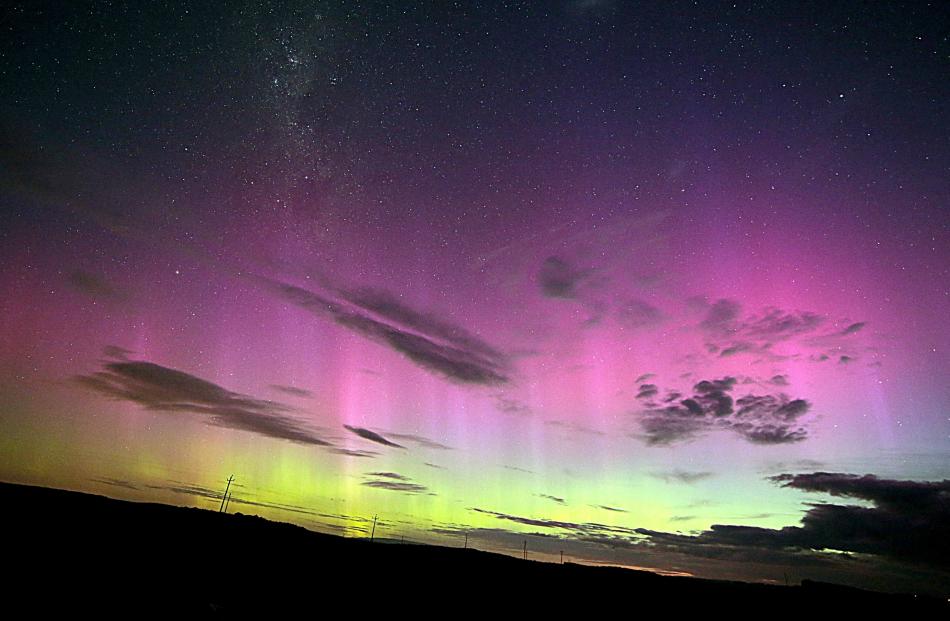 A memorable display of the Southern Lights seen in the skies over Dunedin last week could be repeated as early as this evening, scientists say.
University of Otago physicist Prof Craig Rodger said the colourful displays of the Aurora Australis, also called the Southern Lights, seen mid last week were caused by several coronal mass ejections from the Sun that had struck the Earth's magnetic field.
Another mass ejection had happened mid this week, but the latter event had had only a limited effect on Earth's atmosphere, Prof Rodger said.
Space monitoring authorities were predicting another big geomagnetic storm in the Earth's atmosphere today, with potentially good viewing times for auroras in the South being about 10pm today and about 2am tomorrow, depending on cloud conditions and other factors, he said.
Last week' s solar ejections had been the biggest for several months.
Prof Rodger said a coronal mass ejection was a ''huge cloud of plasma and magnetic field ejected from the Sun in a large explosion''.
Otago Museum director Dr Ian Griffin, who is an English-born professional astronomer, said the display of the Southern Lights which he saw above Dunedin mid-last week was definitely ''the most amazing display of the Aurora'' he had seen since moving to New Zealand in May last year.
He noted that he had been standing high on Strath Taieri on Wednesday night of last week when he saw the ''remarkable'' sight.
''From the moment the sun dipped below the horizon . . .the Southern Sky was awash with colour, and dancing displays of the aurora,'' he said in an interview.
One of the best things about the display had been being able to share it with some other people who heard about the event on Twitter and ''who all agreed to meet at the same remote spot,'' he said.
He took several striking photographs, which he has displayed on his Twitter account (https://twitter.com/iangriffin), and has provided some of the images to the ODT.
He wrote on Twitter that ''it wasn't a dream''.
And he noted that, while he was taking photographs of the aurora over Dunedin, another celestial phenomenon - a meteor - had flown by.
''Meteor has temerity to intrude upon perfectly good shot of tonight's aurora,'' he added.
Prof Rodger said an aurora was a kind of ''cosmic TV''.
Electrons and protons from space struck the Earth's atmosphere at altitudes of up to 250km, causing it to glow like the screen of a giant television set, he said.