Mondelez will be making an announcement within a month about the multimillion-dollar investment in an expanded Cadbury World.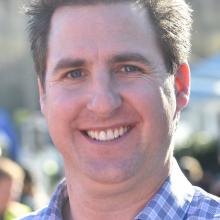 The company's New Zealand country head, James Kane, of Auckland, made that comment during a visit to Dunedin and on the opening day of the 18th annual Cadbury Chocolate Carnival on Saturday.
Mr Kane also said questions had been asked about the future of the popular carnival, which had raised more than $1.2 million for its ''charity partners'' over the years and continued to inject large sums of money into the Dunedin economy.
He was ''really confident'' about the future of a ''new and bigger'' and ''significantly improved'' Cadbury World.
And he ''absolutely'' rejected any suggestion that Mondelez would be ''pulling away'' from supporting the carnival.
''We want to make it absolutely clear that's not our intention at all,'' he emphasised.
The company was fully committed to continuing the carnival activities but was giving careful consideration to what form they would be in.
Through its existing Cadbury World team, the company would be considering whether the best outcome would be achieved by retaining the carnival in its current concentrated, week-long form, or by offering shorter periods of fun activities throughout the year, also through Cadbury World.
Mondelez would be consulting closely with Dunedin stakeholders, particularly the Dunedin City Council-led civic working party, over the company's future plans.
Aspects of the plans had been discussed at the working party's most recent meeting on Friday, and he emphasised that local stakeholder feedback resulted in better outcomes.
The opening day of the week-long carnival had again been successful, and a decision to replace the usual fireworks display with a series of carnival booths and games activities had worked well, he said.
Mr Kane said Mondelez would soon be announcing details of its ''multimillion-dollar investment'' in a ''new and bigger'' Cadbury World.
Mondelez has previously said Cadbury World will be based at the historic category 2 listed Dairy Building, built in the 1870s, which is on the Cadbury site at 280 Cumberland St.
Earlier this year, announcing its plan to close the Dunedin factory, Mondelez said it would gauge feeling about its presence in the community before making a final decision on the Cadbury World expansion.
The company was keen for Cadbury World to be redeveloped as a ''significant tourist landmark'' for the city, and retaining a cafe.
It was hoped ''some space'' outside the building could also be used by tourists as part of planned overall improvements, he said.