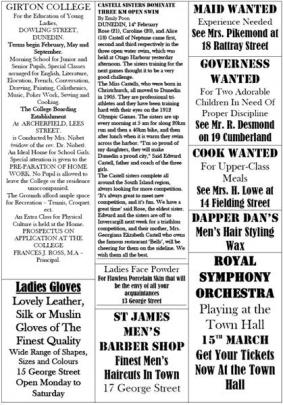 Columba College's budding young journalists cleaned up both awards in the 2009 Otago Former Times competition.
Year 9 and 10 pupils were given the opportunity to travel back in time to 1909 and create a newspaper of the day - the Otago Former Times.
Otago Daily Times editor and competition judge Murray Kirkness said he was looking for a writing style that was appropriate for the era.
Written work included advertisements, poetry and news reports.
The project, initiated by the Dunedin Heritage Festival, was designed to provide secondary pupils with the opportunity to embrace both Otago's early history and celebrate the region's literary heritage.
John Lewis takes a look at the work of year 9 pupils Nikita Brazil, Youri Lee, Shirley Kim, Monica Bae, Nicola Firth and Angela Jenks and their year 10 peers Jessica Alsop, Catherine O'Donnell Jackways, Tatiana Biggemann, Emily Poon and Emma Lloyd.