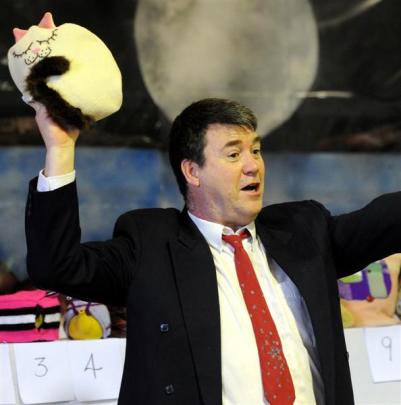 Bidding was hot for 30 new tea cosies at a charity auction in Northeast Valley on Saturday.
Auction organising committee member Clare Adams, of the Northern Artery, said about 70 people were at the auction to raise funds for the Otago Community Hospice.
Tickets to the event included a high tea, and people enjoyed the ritual and sense of occasion, Ms Adams said.
''People love the idea of drinking out of china and having a nice cup of tea.''
The tea cosy designs included a goldfish, snail, squirrel, a licorice allsort and a caravan.
Auctioneer Jeremy Anderson said he was chosen to collect bids because ''I've got a loud voice and I like the sound of it''.
Before the auction, the goldfish tea cosy received a phone bid so its auction price would open at $100, Mr Anderson said.