The occupants of a utility vehicle which was crushed ''as flat as a pancake'' after it plunged about 50m down a steep face near Lee Stream are lucky to be alive, Dunedin police say.
Senior Sergeant Kelvin Lloyd said the occupants were doubly lucky to have been found.
He said the Ford utility left the road at a sharp bend on George King Memorial Dr, near Lee Stream, about 11am on Saturday.
The vehicle went down a 50m face and rolled end-on-end before stopping on its roof.
A female passenger managed to get out, but the male driver was trapped in the crushed car for more than an hour, he said.
''The vehicle was flat as a pancake. We're lucky we're not looking at a fatality.''
The female was taken to Dunedin Hospital by ambulance with minor to moderate injuries, although she is understood to have deteriorated after leaving the scene, and the male, with moderate to serious injuries, was taken by Otago Regional Rescue Helicopter.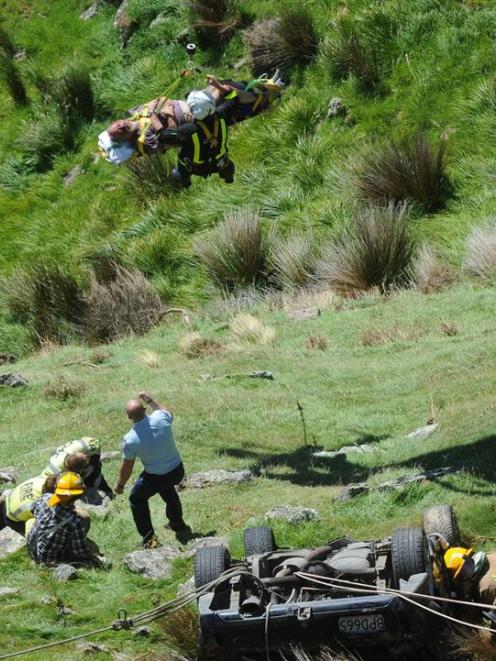 The pair were both in a stable condition yesterday, the woman in the high dependency unit, and the man in the coronary care unit, a hospital spokesman said.
Snr Sgt Lloyd said the accident was witnessed by a cyclist, who went to the top of a hill to get mobile phone reception.
It was fortunate someone saw the accident, he said.
''They may have been there for some time if the cyclist hadn't seen them. They were difficult to see from the road,'' he said.
Ricky Bower, of Mosgiel, said he was at the top of the hill cutting firewood with a friend when the cyclist came up the hill shouting.
''Some guy on a pushbike came up the hill screaming, `There's been an accident'.
''So we got on the cellphone and called for help, and then went down to have a look.
''The ute ... it's pretty well flattened. I think they were very lucky.''
Snr Sgt Lloyd said police were still investigating the cause of the accident, and asked the cyclist to get in touch to assist with the investigation.