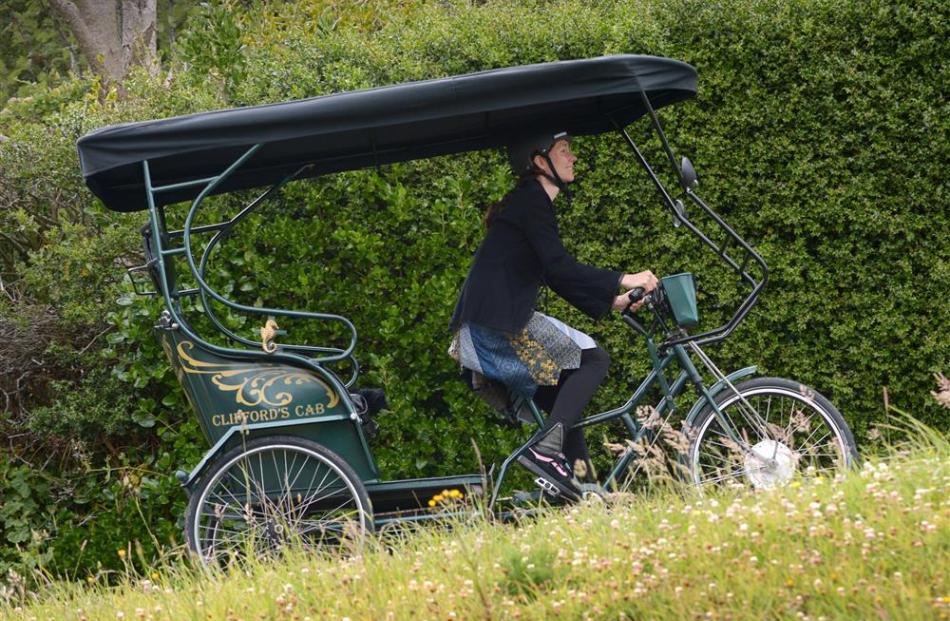 How does a stay-at-home mum keep fit, earn a living, supervise three young children and justify buying a three-wheeled rickshaw on a whim?
For Port Chalmers' Kari Clifford, the solution was inventive: reupholster the rickshaw, turn it into a tourist attraction, and let her kids ride in the back when paying customers were not around.
And with the cruise ship season in full flight, Mrs Clifford was beginning to rack up some miles, she said on Monday.
Originally from Nashville, Tennessee, Mrs Clifford came to Dunedin 11 years ago to complete her PhD in food science and nutrition.
Marriage and children followed, and Mrs Clifford decided to stay.
After a spell lecturing at the university, she moved to full-time parenting her three children, now aged 2, 6 and 9.
But when she spotted an old rickshaw by the roadside, her plans took a turn.
"I was driving down the road on Crawford St and I saw it. And I said 'I have to have that'. So I had to come up with a good reason.''
Rickshaws originated in Japan but are now used all over the world as passenger vehicles.
While they come in many forms, Mrs Clifford's is a simple pedal-powered three-wheeler with a seat and canopy at the back.
She was convinced the flat run from Port Chalmers to Carey's Bay Hotel would make the perfect route.
A complete reupholstering followed - the rickshaw had come from Queenstown where it had been owned by a noodle restaurant - and her little business was born.
While the weight of passengers made the trip difficult, a $2000 electric motor added in October allowed Mrs Clifford to ferry people to and fro with relative ease.
The $10 return trip had proved popular on fine days when cruise ships were in port, with many customers simply wanting to enjoy the ride without a stop at the hotel, she said.
The intimate nature of a rickshaw ride meant conversations flowed, something Mrs Clifford loved.
"I'll sit and talk to a wall, really.''