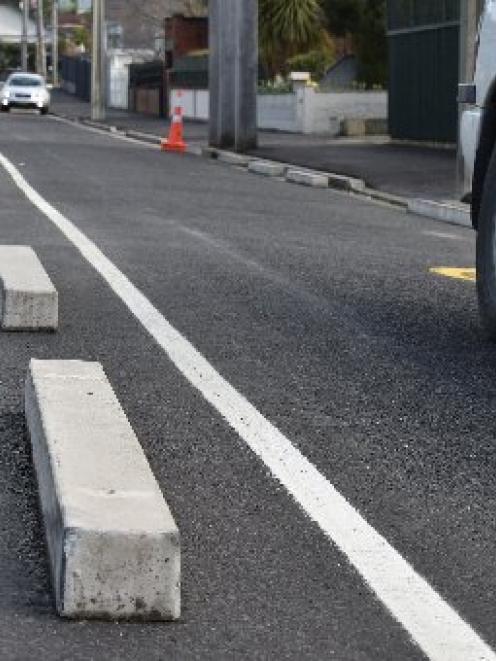 The removal of St Clair's bungled cycleway infrastructure has begun, and is expected to be complete within a week.
Many infrastructure additions built for the South Dunedin cycleway were deemed unsuitable in July, and Dunedin City Council infrastructure and networks general manager Ruth Stokes announced they would be replaced.
That work, expected to cost about $20,000, began yesterday, with contractors Downer removing concrete kerb blocks running along the north side of Coughtrey St.
Once those blocks were removed, contractors would get rid of the floating islands in Hargest Cres, council network development and operations manager Michael Harrison said yesterday.
Islands would then be removed from Richardson, Moreau, Bellona, and Churchill Sts, in that order. All work should be done by the end of next week.
The areas would then be tidied up, resealed and road markings added. The removal of the Coughtrey St concrete blocks did not mean the end of a separated cycleway there, nor did the removal of the traffic islands mean a scaling back of the project, he said.
''There will be cycle facilities built there. But we don't know yet what that's going to look like.
''Something will go back in its place. And I can guarantee its going to be a much higher level of acceptability.''
Designs of replacement infrastructure were ''in progress at the moment'' and being discussed with the council's leadership team, Mr Harrison said.
The public would be consulted on the new designs, hopefully within the next two months, he said.
The cost of the replacement infrastructure would not be known until designs had been finalised.