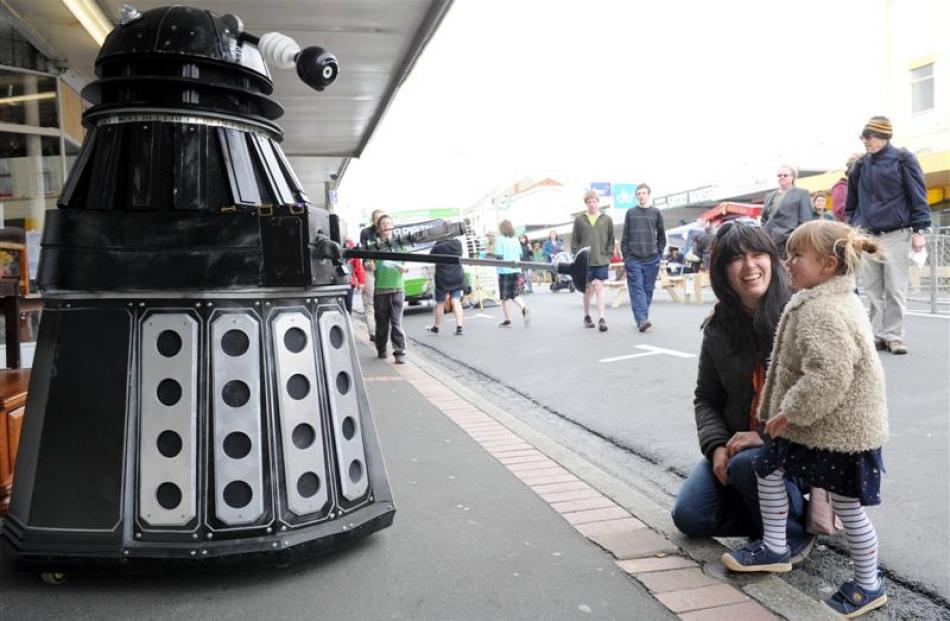 Unlike the Daleks on the British cult television show Doctor Who, the one in South Dunedin on Saturday was surprisingly polite.
Instead of promising to exterminate anyone who came near, a slightly robotic English accent proclaimed: "Warning! Warning! Watch out small child. I am moving ... " as it was surrounded on all sides by visitors to the 2012 South Dunedin Street Festival.
The Dalek, one of the hits of the festival, was built by 28-year-old Warren Goodwin, of Dunedin, from scrap metal, plastic, PVC piping and a toilet plunger.
Despite the chilly and often wet weather, Mr Goodwin said he was relatively comfortable inside the "five-foot-something" contraption with a seat to sit on, and a place to put his hotdog and soft drink.
Festival co-ordinator Nick Orbell was delighted with the success of the event, staged in on King Edward St, and estimated more than 2000 people attended throughout the day.
He said the street was packed at times, and people took shelter under shop verandas when a few showers passed through.
"The feedback we've been getting is it has been very successful.
"A lot of people have been saying they can't wait for it to be held again next year."
The event was run on the smell of a "well-oiled" rag, but it had shown the worth of the event to financial contributors, Mr Orbell said.
"I think we have a really solid platform for building a regular event."
The street was filled with merry-go-rounds and bouncy castles, as well as displays, food stalls, market stalls and a stage with local groups performing.
The festival celebrated the recent completion of street-works aimed at revitalising South Dunedin's retail centre, and brought together local residents, the diverse ethnic, cultural, community and social groups, and the business community, he said.