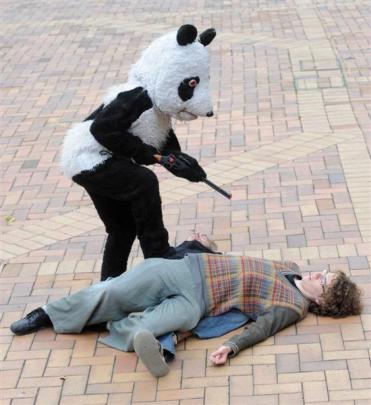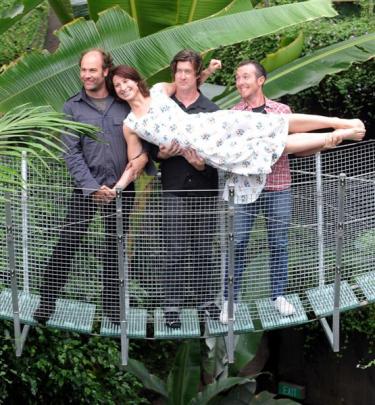 The Dunedin Fringe Festival straps on its dancing shoes today.
The world premiere of Bipeds Productions' Lily about Dunedin dance doyen Lily Stevens should open to a packed house when the curtain rises at the Fortune Theatre tonight.
Starring Port Chalmers dancer Kilda Northcott as Lily and accompanied by half the young ballet dancers in Dunedin, it should be an absolute toe-tapping, knee-slapping classic.
A feature of the show will be at the end of the performance, when a microphone is set up on stage and the audience is invited to share memories about the late Dunedin ballet teacher.
Another Dunedin-influenced dancework opening tonight is Corrupt Productions' Self Portrait, inspired by Dunedin artist Rita Angus.
"It's a response to the recent Rita Angus exhibition toured by Te Papa," Christchurch dancer Julia Milsom said yesterday.
"It's inspired by the sacrifices Angus made for her art."
Milsom brought her acclaimed Locked to the Otago Festival of the Arts in October.
Self Portrait opens at Allen Hall Theatre at 8.30 tonight.
Free Theatre's Ella and Susn also starts today.
"It's probably the most experimental show in the whole Fringe," festival director Paul Smith told me.
"It should be absolutely amazing."
He's just saying that because the stars of the show are a bunch of live chickens . . .
Ella and Susn opens at the Globe Theatre at 8.30 tonight Also opening tonight is the Wellington Binge Culture Collective play Drowning Bird, Plummeting Fish at the Fortune Theatre.
"It's set at an end-of-the-world party where the beer is warm and the music is crap," director Joel Baxendale says.
"It's a very dark comedy about our generation's relationship with the future. It's quite anarchic and energetic and an insight into what it's like being a young New Zealander."
The play won best newcomer award at the Wellington Fringe Festival last month.
Drowning Bird, Plummeting Fish opens at the Globe Theatre at 6pm today and runs till Saturday.
I saw the premiere of Auckland comedian James Nokise's moving autobiographical play, The Minister's Son, at in the Fortune Theatre Studio last night.
"It's really nice bringing this show to Dunedin, because Dad [Fele Nokise] trained at Knox College here in 1978," Nokise told me before the show.
"It's loosely based around my family and the clash of cultures and violence."
The show concerns the bicultural marriage of Nokise's parents and the domestic violence that threatens it.
"It's an example to anyone involved in that situation how to get out of it," Nokise says.
The Minister's Son plays in the Fortune Theatre Studio at 8.30pm till Sunday.
On to Sammy's last night, where irreverence and burlesque come together in Cabaret Meets Chaos.
The high-octane show is packed with acrobatic fun.
An undoubted highlight for me was some cross-country unicycling, up and down the stage stairs and around the audience.
Just when you think you've seen it all, up pops a chap who balances a bath on his chin.
Much more impressive than a tap on the shoulder, I suppose.
Then it was Bigups Yourself at Sammy's, hosted by Dunedin fire-breathing, fire-eating, fire-dancing troupe Highly Flammable.
The Fringe is heating up . . .

• What's on today
Daily: Outside Art (random locations).
Daily: Digital Shadows (random locations).
10am-5pm: Fringe Inventions: an exhibition of Chindogu (DPAG).
10am till late: Signs and Wonders (Alibi bar and restaurant).
10am till late: Festival in the Valley (Mannequin cafe and bar).
11.30am-1.30pm: A Recipe for Mock Turtle Soup (Botanic Gardens).
Noon: Lunchtime Street Performance (Ltd Festival Kiosk).
Noon: Slim Pickens (Octagon or streets of Dunedin).
2pm: Slim Pickens (Octagon or streets of Dunedin).
2pm-4pm: Come Together (None Gallery).
6pm: Drowning Bird, Plummeting Fish (Globe Theatre).
7pm: Pillow Talk (Crash Box, Fryatt street).
7pm: Lily (Fortune Theatre).
8.30pm: Self Portrait (Allen Hall Theatre).
8.30pm: The Ministers Son (Fortune Theatre Studio).
8.30pm: Ella and Susn (Globe Theatre).
9pm: Cabaret Meets Chaos (Sammys).
10pm: Bigups Yourself (Sammys).