Never-before published photographs from the day Beatlemania visited Dunedin show the youth of the city swept up by a cultural phenomenon the older generation simply did not understand.
Archived photos from the Evening Star rediscovered this week by an Otago Daily Times photographer show The Beatles performing at Dunedin Town Hall on June 26, 1964.
The photographs also show the enthusiastic reception The Beatles  received wherever they went.
The pandemonium the band created caused the young men to give up touring two years after their visit to this city.
University of Otago senior lecturer in contemporary music Dr Ian Chapman called the unpublished photographs ''gold''.
The photos themselves were not especially rare, Dr Chapman said, but they captured a moment that was singular in the city's history. 
''I'm no absolute Beatles expert, but what I do think is amazing is that rock'n'roll was 'the' youth phenomenon of the 20th century — and the fact that the biggest band of all was right here in Dunedin is still pretty amazing,'' he said.
One photograph that struck him showed the crowd facing the stage and the faces of the police officers lined up in front of it to protect the band from its screaming fans.
''I think the expression on the face of the policeman standing second from the left absolutely nails the culture shock that Dunedin experienced that wonderful night.
''I wish I'd been old enough to have been there.''
''Bedlam broke loose in the Town Hall last night,'' the Even ing Star reported the following day. ''The four Liverpool lads did the impossible — turned staid Dunedin upside down.''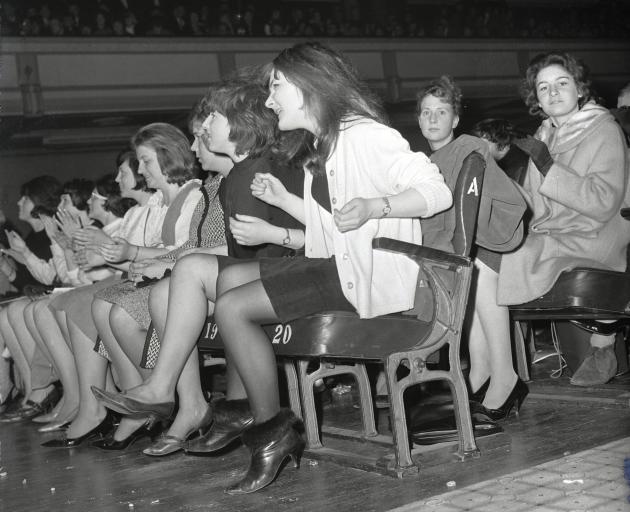 Dr Chapman said the review the paper published demonstrated ''a very clear culture gap''.
''Dunedin had never seen anything like it and the Evening Star — and probably the wider populace outside The Beatles' young audience demographic — was totally unprepared for it.''
He said it was hard not to conclude  the reviewer found the whole thing profoundly disturbing.
He suspected the reviewer was far more comfortable with classical music or perhaps music hall than rock'n'roll.
''Collectively, The Beatles make a noise that appeals. Individually, they are pleasant young men without a great deal of musical talent,'' the review said.