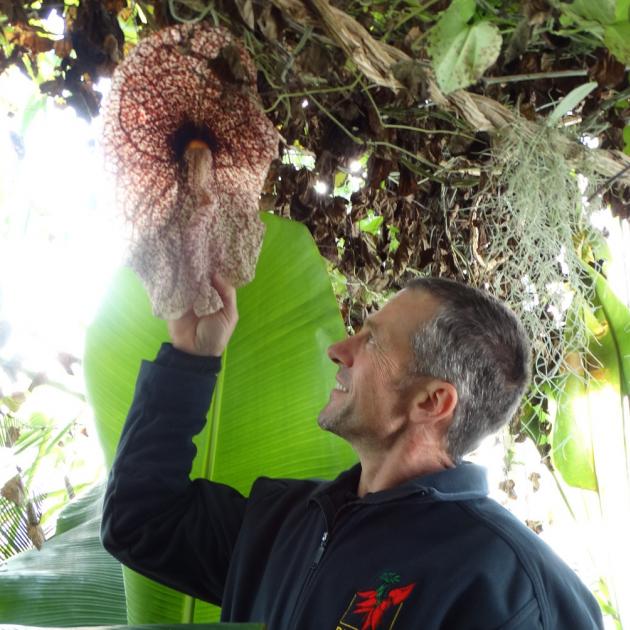 The huge effort Dunedin Botanic Garden staff put in to preserving and propagating rare and important plants is to be highlighted today.
Botanic Gardens Day will be celebrated across New Zealand and Australia, focusing on the vital conservation role played by the gardens.
Dunedin Botanic Garden team leader Alan Matchett said the theme of the event, "Botanic gardens conserving plants - our lives depend on it'', summed it up.
"We are very keen to encourage people to visit the garden and engage with the work we do around conserving and propagating plants,'' Mr Matchett said.
Dunedin Botanic Garden geographic and arboretum collections curator Dylan Norfield is delighted to have secured the "Lab in a Box'' mobile science laboratory, which will be on site in the lower garden from Saturday until Monday.
The Lab in a Box is a joint project by the University of Otago and Otago Museum, and is fully equipped with microscopes, high-speed cameras, telescopes, a weather station and a full chemistry lab.
"Our main focus for the lab this weekend will be on pollination, and the many interesting ways that plants adopt to achieve pollination,'' Mr Norfield said.
In his role, Mr Norfield cares for plants from all around the world, most specimens having been collected from the wild, in places as diverse as South America, Asia and Australia.
"Many of the plants thrive here, we are so lucky that our climate enables us to grow so many different varieties,'' Mr Norfield said.
The pollination theme for Sunday's event at the Dunedin Botanic Garden was inspired by the extraordinary public response to the recent flowering of the corpse flower, which attracted thousands of people to the garden, he said.
Orokonui Ecosanctuary education officer Tahu MacKenzie will also be on hand to provide face painting and pollination games for children.
A pollination trail around the lower garden will allow visitors to discover the variety of plant pollination methods, from bees to bats.
And a "Welcome Nature Home'' tour will give people the chance to discover plants they could have in their own garden to attract bees and birds.
What's on
Botanic Gardens Day
• Lab in a Box, open 10am-3pm, Saturday-Monday, lower garden at Dunedin Botanic Garden. Free.
• Explore behind the scenes at the Dunedin Botanic Garden plant propagation and nursery facility, Sunday 10am- 2pm. Free.
• Welcome Nature Home tour. Meet at the car park beside the propagation facility, Lovelock Ave, Sunday, 11am. Free.
• The Beauty of Botanic Gardens exhibition, Sunday 10am- 4pm at the Information Centre, lower garden. Free.
BRENDA.HARWOOD @thestar.co.nz