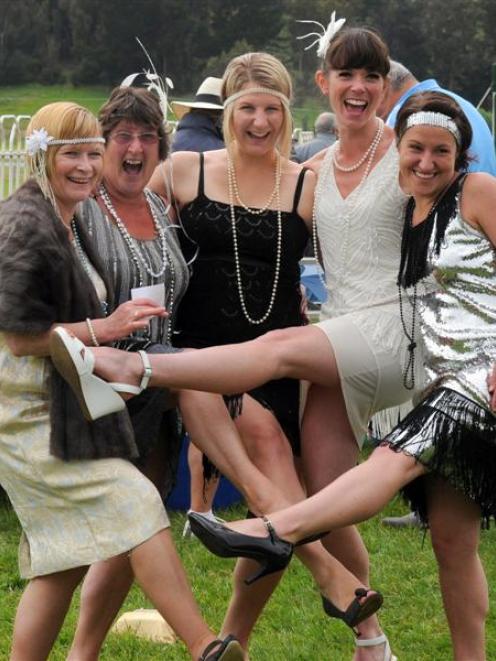 A grey day did not stop a group of Dunedin women from kicking up their heels, 1920s style, at the Wingatui Boxing Day races yesterday.
While most racegoers opted for warmer clothes and jackets, Liz and Emma Dougherty, Linda and Nicola Hassan and Krystle Quine went for fur wraps, fascinators and flapper dresses.
The effort was to celebrate Nicola Hassan's 30th birthday - a ''1920s day at the races'', Ms Quine said.
Unfortunately, Ms Hassan was having a ''silent'' birthday - she has just had a cochlear implant inserted to help her hear but it is not due to be ''switched on'' for a couple of weeks.
''We're very proud of her,'' her mother, Mrs Hassan, said.
For others at the the Boxing Day Interislander Summer Festival, it was a chance to kick back and relax.
Otago Racing chief executive Andre Klein said cool, drizzly weather at the start of the day deterred people from coming out and left those who did confined to their cars and the grandstand, although conditions improved as the day went on.
He estimated that translated into a ''20% or more'' drop in numbers attending from last year, when temperatures of about 25degC attracted 6000.