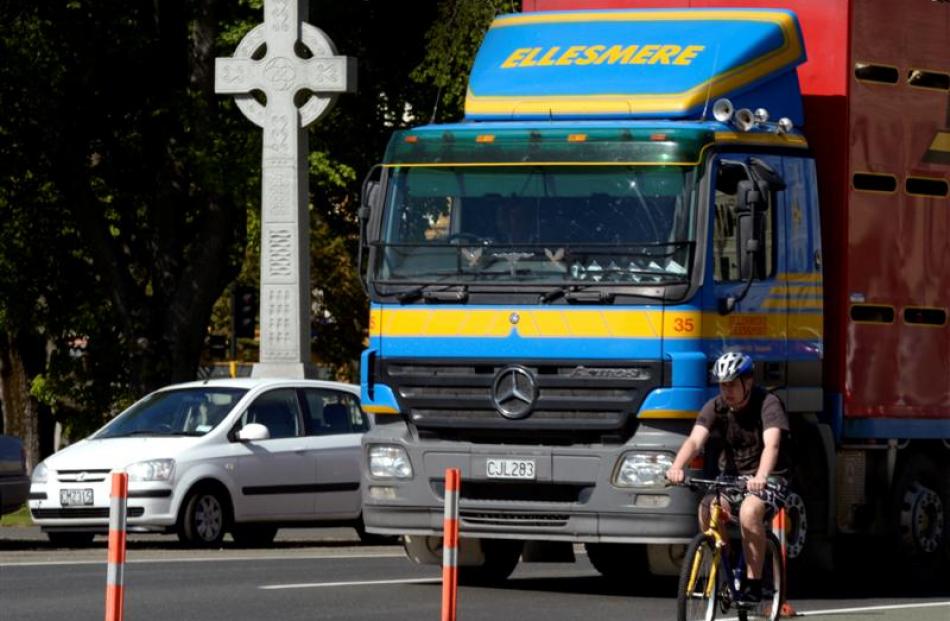 The Dunedin City Council is urgently addressing safety issues for cyclists on the one-way state highway system through Dunedin, following the death of a cyclist on Cumberland St on Monday.
Dunedin Mayor Dave Cull said discussions between councillors and staff about cycle safety began a while ago, but the death of Dr Li Hong (Chris) He this week highlighted the need for an urgent solution, which might include temporary measures while permanent changes are considered.
"There is considerable concern right through council and we will be seeking urgent discussions with the New Zealand Transport Agency (NZTA) to look at how we can address these very clearly urgent issues," Mr Cull told the Otago Daily Times yesterday.
He said councillors and staff would meet early next week to determine what the council could do within the regulatory framework, what the NZTA was responsible for and how the organisations could work together.
"At the moment, the cycle lane on the one-way is in just about the most dangerous place to put it and there is only a white line separating cyclists from heavy traffic. There is a consensus among council staff, councillors and people in the community that cycle safety needs to be improved, so we would be silly not to be talking about some solutions," he said.
Mr Cull said he was setting up a strategic cycling advisory group to look at how the council could optimise its development of cycling throughout the city.
Yesterday morning, NZTA placed temporary bollards between the road and cycle lane at the intersection of State Highway 1 (Cumberland St) and lower High St.
NZTA state highways operations manager Roger Bailey said the installation was in response to complaints from cyclists about motorists cutting the corner and crossing into the cycle lane.
It had been an issue for the past year, he said.
"Initially we responded by painting the cycle lanes green to make them clearly visible to drivers. This worked initially, but the issue has re-emerged again in the last month," Mr Bailey said.
NZTA was looking at a more permanent solution, he said.
Not long after being installed yesterday, the bollards were run over by a truck as it cut the corner. The lunchtime incident was witnessed by a Dunedin resident who contacted the ODT about it.