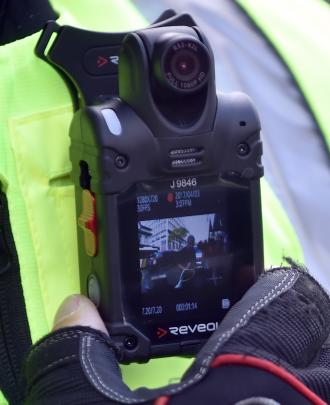 The Dunedin City Council hopes the body cameras its parking officers will wear from today will be just what is needed to stop threatening behaviour.
Council compliance, animal and parking services team leader Peter Hanlin said the council had bought 10 body cameras for enforcement staff to attach to their uniforms when on patrol.
Parking officers were sometimes abused and the camera should act as a deterrent, he said.
The cameras, which cost from $1500 to $1700, record constantly but the footage is only stored if activated by its wearer.
The cameras store everything up to 30 seconds before their activation.
The officer decided when to activate the device but a member of the public could ask for it to be activated at an incident.
One of the cameras would be available for on-call animal services officers when working alone at night or visiting animal owners who had been involved in previous incidents.
Mr Hanlin hoped the cameras would reduce ''negative interaction'' and create a safer working environment for staff.
The use of the technology by other councils in New Zealand had resulted in fewer cases of abuse towards parking officers.
Council parking officer Bevan Mears said he had been in the job nearly 12 years and was regularly abused by members of the public, most of it verbal including the regular insult of ''get a real job''.
The cameras would make his job safer, he said.
The public would also benefit from the cameras because it would remove any doubt about exactly what happened during an incident, Mr Mears said.