Dunedin's love affair with man's best friend continues to grow.
There are about 17,700 known dogs in the Dunedin City Council's records - but nearly 3000 are not yet registered.
As of July 31, there were 14,798 registered with the council and 2960 still outstanding.
All dogs older than 3 months needed to be registered by the start of August, and owners who failed to do so can expect a $300 fine.
Last year, 17,250 dogs were registered.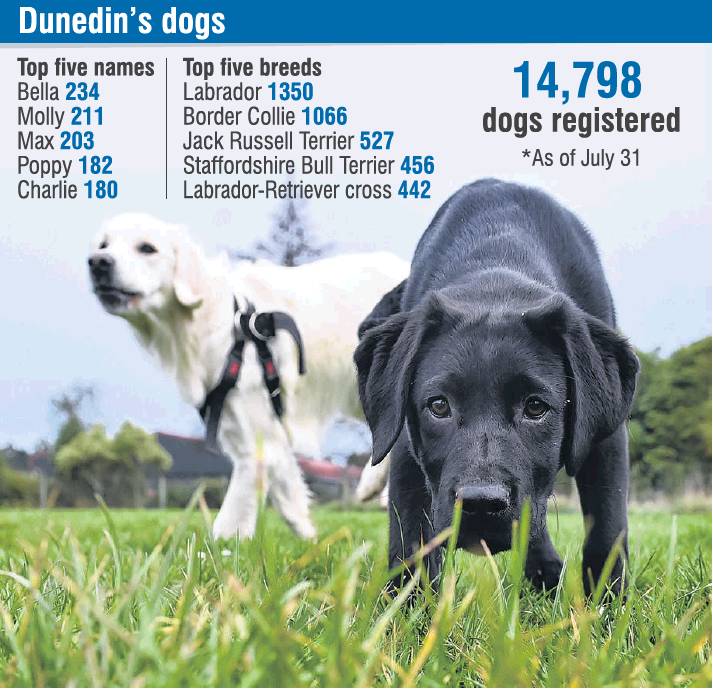 Council compliance, animal and parking services team leader Peter Hanlin said the number of unregistered dogs at this stage was similar to previous years.
Reminder notices would be sent to owners shortly and late penalty fees would be added to the cost of registration, Mr Hanlin said.
More owners had registered online this year, which was pleasing, he said.
Labrador retrievers continued to be the most popular breed (1350 registered), followed by border collies (1066) and Jack Russell terriers (527).
The most popular names - Bella (234) , Molly (211) and Max (203) - have remained the same as the previous two years.
There were 772 different breeds registered and 4633 different names.
Some of the more unusual names included Coke (2), Pepsi (2), Saddles Luis Cordova (1), Bert (8), Ernie (8) and Google (3).
Dog owner Bayley Gutsell decided to take the more traditional route when naming her two dogs Mila, a golden retriever, and Chloe, a labrador. Twenty dogs are named Mila and 42 are called Chloe.
''We just thought they were cute names.''
Ms Gutsell said she and her partner had always wanted a retriever and a labrador because of their calm natures.