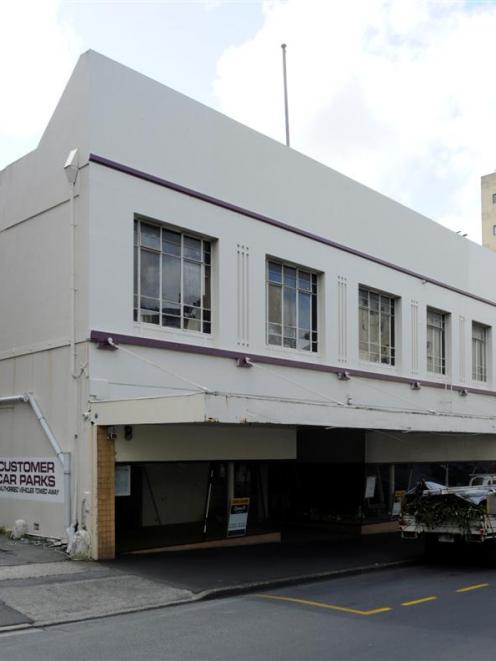 A 19th-century central Dunedin commercial building has been granted a temporary reprieve from the wrecking ball, after an application to demolish it to make way for a car park was placed on hold.
However, building owner Lincoln Darling said when contacted yesterday he planned to proceed with the application next year, and nothing had changed.
Mr Darling had sought resource consent to demolish the former Furniture Court Building at 180 Rattray St and replace it with a rental car park until another development opportunity arose.
The application was filed on his behalf by Paterson Pitts in August, after Mr Darling was unable to attract new tenants following Furniture Court's departure.
The proposal drew responses from 16 submitters by the September 21 deadline, all but one of them opposed to the loss of the building.
A hearing was to be held later this month, but submitters instead received a letter from the council last week advising the application had been placed on hold.
An accompanying letter - sent to the council by Gallaway Cook Allan partner Phil Page, also acting for Mr Darling - said it would remain on hold while other options for the site were investigated.
"This is, in fact, in accordance with what many of the submitters want," Mr Page said in his letter.
It was expected the council would be notified by the end of January next year whether the application would proceed unchanged, on a modified basis, "or not at all", Mr Page said.
However, Mr Darling told the Otago Daily Times the reason for the delay was his overseas trip, planned for the time the hearing was to be held.
"We can't be there [the hearing]."
Changing the plans for the site, or abandoning them altogether, remained options, as they always had been, he said.
He was not concerned by opposition to the demolition, saying of submissions: "There's nothing there of any substance".
"There's a few things that have to be cleared up for the writers, but they'll be cleared up for them.
"Obviously, you do look at submissions ... if they want to chat with me I'm quite happy to talk to them about their concerns."
His application had argued the building was earthquake-prone and in an area of Rattray St that was cold, windy and dark, with little foot traffic and not enough room on site for a large-scale retail development.
It would cost a "substantial" amount to retrofit the building and bring it up to required safety standards, and modernising over the years had destroyed the original facade and the building's heritage significance, the application said.
Mr Darling also owned the 135-year-old building across the street from the former Furniture Court building, which partially collapsed in January and has since had parts of its upper storeys demolished.
New Zealand Historic Places Trust Otago-Southland area manager Owen Graham, in his submission, argued the "deficient" application lacked a detailed heritage assessment.
The loss of the building would "erode the collective presence of heritage buildings" in the area, leaving behind "an ugly space" and views into the sides and rear of an adjoining terrace of buildings, he said.
"This would result in an untidy appearance in addition to an out-of-keeping gap that would be left in the streetscape by the removal of the building," he said.
Many old Dunedin buildings could be labelled earthquake-prone, and approving the application could encourage other similar applications, he said.
Demolition would also eliminate any chance of adapting the building for reuse, amounting to "an opportunity lost, rather than gained", he said.
Mr Darling said he had contacted Mr Graham last week to arrange a meeting, but had no views on his submission as "I haven't even read it".
"It's in the lawyers' hands."