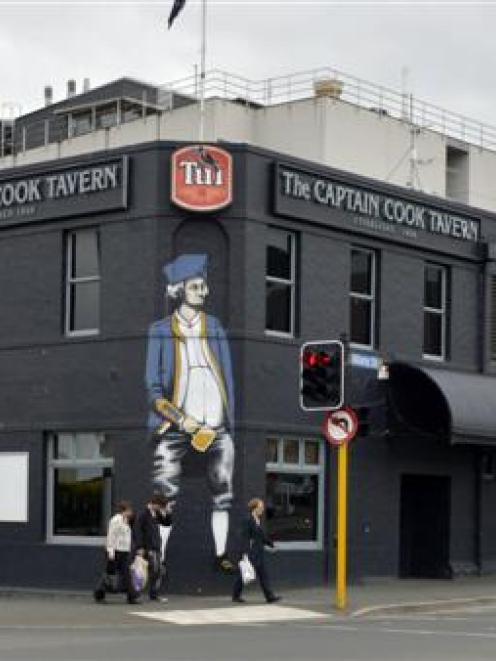 Anyone taking over the Captain Cook Tavern would face a difficult task changing people's perception about the student watering hole, the owner of another North Dunedin pub says.
The comments come amid an uncertain future for the pub, with DB Breweries' lease of the building running out at the end of June.
Cook Brothers Bars, which subleases the Cook, will cease operating the pub when the lease expires. Its operations manager, Guy Randall, said this would most likely signal the end for the pub, with it not making as much money as it once did.
Starters Bar owner Adam Turoa said times had changed since the Cook's heyday, with students no longer wanting to drink at ''skody student pubs''.
Anyone taking over the Cook would need to diversify the pub's market beyond just students, and change people's perception that it was just a ''scarfie'' pub. Given the Cook's reputation, this would be a difficult task, he said.
Mr Turoa said the success he had running the Starters Bar - formerly the Oriental - since buying it five years ago was proof that you could run a successful pub in North Dunedin.
He and his wife managed to build up its clientele by not just focusing on students and by ''leveraging'' off the new Forsyth Barr Stadium, he said.
''I think ... [Cook Brothers Bars] have just rested on their laurels a little bit and expected people to rock on up. That has probably stung them a little bit,'' he said.
The Starters Bar was now on the market, with Mr Turoa saying he was ready to move on to his next business opportunity. This did not mean the pub was at risk of closing, though.
''We are only selling because we know we are going to get a good price for it.''
Yesterday, the Otago University Students' Association distanced itself from comments made last year by then president Logan Edgar that it was interested in building a pub in North Dunedin.
''The OUSA executive has at this stage not heard any motions regarding the purchase or building of a pub,'' president Francisco Hernandez said.
The University of Otago declined to comment.
Last year, vice-chancellor Prof Harlene Hayne said it was open to being involved in a pub as a way of reducing alcohol-related harm.