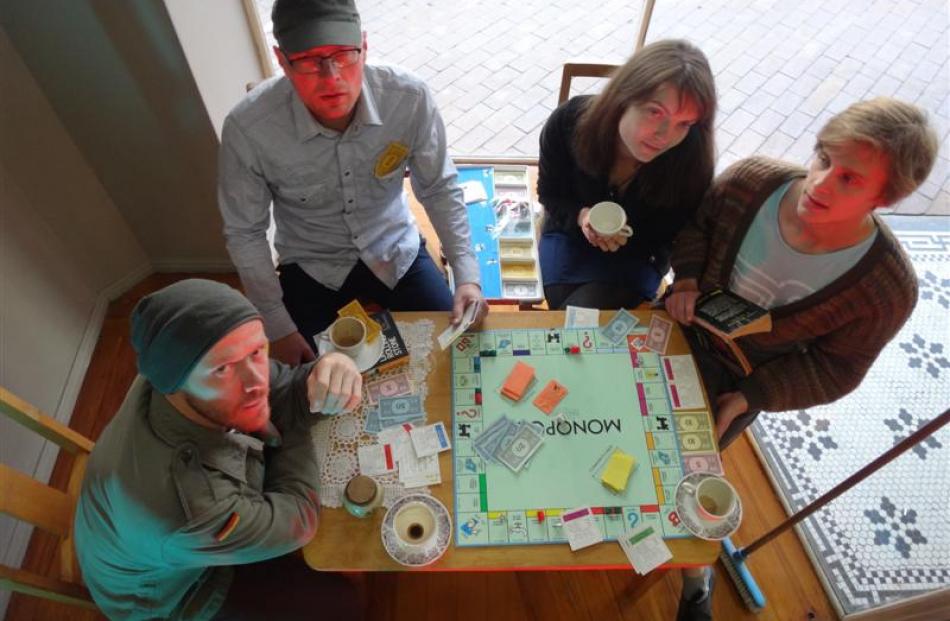 Ian Henderson is proving it is possible to be successful recording, promoting and releasing music from a basement in Dunedin. Hamish McNeilly discovers how the underdog is producing music heard around the world.
They are listening to our music over there.
People in far-flung towns and cities across the globe are buying LPs, CDs and downloading digital songs from a Dunedin-based label.
And the music?
Opposite Sex, The Puddle, Males, The Dark Beaks, Trick Mammoth, The Prophet Hens, The Shifting Sands, all released on boutique Dunedin-based label Fishrider Records.
And that music was more than likely recorded, promoted, released and dispatched from the official headquarters of the fledging label, the basement of Ian Henderson's Dunedin home.
''It is small-scale, it is arts and craft but the really cool thing but there is certainly a lot of interest around the world in what we are doing here in Dunedin ... I am trying to be a conduit for people to pay attention because there is some world-class stuff happening in this city.''
But why start your own label?
''The reason I do it is so I can hear the music I want to listen to.''
And now others are tuning in to the music billed on the Fishrider website as ''literate, melodic psych pop, no wave and whatever other kinds of DIY subversive pop take our fancy''.
Just this month a New Jersey radio station contacted the band Males for an interview, as their recently released debut mini album had held their number one spot for the past fortnight.
Mr Henderson said he would love nothing more than to see a bigger label come in and sign the band up ''because there is a limit to what I can do''.
''They are the Dunedin band that, I think, could travel the world and play at festivals and all that sort of stuff.''
Pre-sales alone meant their album Run/Run/Run/ Males/Males/Males was heading towards breaking even ''which was always the first target'', he said.
He said one thing he always hated about the music industry was everybody else made the money, before anything trickled down to the musician.
''That is so wrong. The musicians are the ones who create.''
Mr Henderson, a self-employed trainer by day, said the skills he has learned over the course of his life that had nothing to do with music had stood him in good stead for the music industry.
''Project planning, networking - there is a whole lot of skills here that I can apply to my passion for music.''
That passion for music saw him officially join The Puddle as their drummer in 2007. The cult band is fronted by his older brother George and received rave reviews for its recent Fishrider releases.
The Puddle had several earlier releases on Flying Nun, a label that served as an inspiration for Fishrider.
''Flying Nun came from nowhere ... established a label from nothing and did things very unconventionally.''
He said the do-it-yourself ethic of independent labels such as Flying Nun and Low Hum encouraged him to record an album by the Dark Beaks, but those demos were ignored by other labels.
''I still wanted to put it out, and I thought: 'It can't be that hard', so I looked up on the internet how to release records and I just did it. There was no plan to start a record label.''
That led him to coin the name Fishrider Records, inspired by one of his other passions; surfing, and the fish-shaped surfboard he favoured.
''It sounds corny to me now, but there are worse names.''
So now, with CDs of the Dark Beaks' Spill Your Heart, he was faced with a problem facing music labels all around the world - ''how do I sell it?''He recalled advice from Flying Nun pioneer Chris Knox, who said for an underground alternative band in New Zealand selling 100 copies was pretty good.
''So when you minimum CD run is 500, I knew I needed to think beyond New Zealand, and I knew from the Flying Nun days there were people all around the world who like that particular sound and style of music.''
Now it was a case of marrying those fans with the music.
And while contemporary bands did not want to be labelled with the ''Dunedin Sound'' often associated with the city, the label's home city helped garner interest.
Using the internet, he was able to locate overseas radio stations likely to play New Zealand releases, and magazines and blogs that could review the Dark Beaks' album.
''To my surprise people really, really liked it. And it was them that made the connection with Dunedin bands like The Verlaines, Sneaky Feelings - which didn't sound like any of those things - but that indicated the interest in independent guitar music from New Zealand.''
While music sharing over the internet meant major labels were not making the money of yesteryear, the internet helped generate interest in releases from the boutique Dunedin-based label.
''My whole business model was based on physical items, CDs, and most recently LPs, and there's not really any cost associated with digital.''
Older bands, such as The Puddle, sold more physical items such as CDs and LPs than newer bands, such as Opposite Sex and Males.
He began releasing The Puddle records on Fishrider, and it was the album The Shakespeare Monkey ''which took everyone by surprise in getting attention around the world''.
In the case of Opposite Sex, he came across the band when supporting The Puddle in Gisborne, and the members mentioned they were coming to Dunedin.
''I said: `'f you do come down, I will record you in the studio', and that was the first new artist that I wasn't directly involved with.''
That recording was sent to reviewers but was largely ignored until major overseas publications began praising the debut album from the now Dunedin-based group.
''When it got a four-star review in Uncut and got played on BBC radio, people here started to pay attention to it. That is kind of the way people are here. Maybe people are too self-conscious about music in some respects, and have difficulty in accepting that something from here can be as good as from overseas.
Unlike the 1980s and '90s, when music lovers would often discover an album a couple of years after it was released, the digital age meant ''everything was quicker and more instant''.
''There is an initial period of high interest and activity but that drops away pretty quickly, now.''
At the time of writing, the Opposite Sex album had been the biggest seller for the label, but the key for any release was to keep on getting attention for the band, with a new single or video every six months.
Initially bands tended to sell more vinyl to all the enthusiasts, but then digital started selling to similar levels and CDs eventually sold more than vinyl.
''People talk about CDs dying, but that is really crap,'' he said.
The record label's vinyl came from the United Kingdom, which was cheaper for freight than from the United States, but ''it is very expensive to make''.
To help keep distribution costs down he had forged relationships with other boutique labels in key markets. The new Trick Mammoth CD was pressed and then distributed from the UK.
''Everything about Fishrider is totally with my money. I don't get any support from New Zealand on Air or anything like that. It is my money, out of my pocket, but more important than the money, which after all is only money, is the time involved.''
So while he was prepared to absorb the loss of any record, he also shared any proceeds with the bands much to the dismay of his accountant - ''he always shakes his head''.
Any money made was far less than the musicians spend on instruments or travelling to gigs ''because the young bands on the label have huge student loans and work part-time''.
''They make music that make a lot of people happy, but it costs them money to make music, because they are giving up opportunities.''
At the end of last year he began to think whether he ''should be focusing on more productive things''.
However that Christmas he heard some demos from up-and-coming Dunedin band, Trick Mammoth, and ''I just thought this was great''.
This year he met the band at the record shop Portil, where they explained how difficult it was to record on a solitary SingStar microphone.
Nek minnit, the band is recording demos at Fishrider HQ.
Mr Henderson said he often went out to see live bands, and ''people get worried when they are out and there are live bands on and they don't see me ... so they come and check to make sure I am still alive''.
While there was potential for Fishrider bands to tour overseas it presented a massive hurdle in terms of costs and logistics.
''Most of the people I work with our students. They have study commitments and are deeply in debt with student loans, so touring around is not an option.''
The growing interest in the label meant he was now receiving demos from bands all over the world but had no interest in being a conventional label.
''I have two rules that I operate by, I have to really, really, really like the music, because if I am going to put the time and money into it I have to passionately believe in it.
''The second thing is I have to know the people and like the people. I don't ever want to do it as a business, and I don't want to deal with people who have unreasonable expectations.''
While some bands, like Males, could fit comfortably on a major label roster able to promote them around the world, others were more suited to staying on a boutique independent like Fishrider.
This month the label released a free 2013-14 Fishrider Records' sampler, featuring a cover familiar to many Dunedinites, of a dinosaur slide at a city park.
The logic of samplers was that people would then support the artists by buying their albums and going to their live shows.
''People who go out and see live music, which isn't as many as it was in the '80s, are actually starting to realise what I have been saying for the last year and a bit ... this is a pretty special time to be in Dunedin.
''It may well be all over in a year or two.
Dunedin is such a unique place. It is such a small city and has such a high transient population because of the university ... bands tending to come and go quite quickly.''
But is clear that Fishrider is here to stay, largely because of a simple factor that motivates Ian Henderson.
''It is a belief that the underdogs can also have their day too.''
---
Seven picks: Ian Henderson picks seven magnificent Fishrider songs. -
• Trick Mammoth - 'Pinker Sea' (from Floristry)
• Males - 'Lucky Too' (from Run Run Run/ MalesMalesMales)
• The Prophet Hens - 'All Over The World' (from Popular People Do Popular People)
• The Shifting Sands - 'Pixies' (from Feel)
• The Puddle - 'The Vitalist' (from Secret Holiday/ Victory Blues)
• Opposite Sex - 'La Rat' (from Opposite Sex)
• Robert Scott and Adalita Srsen - 'That's What I heard' (from split 7" single with The Puddle)
---
Glowing praise for...
Opposite Sex:
''The new wave of New Zealand pop begins here, it's remarkable, leaping from seasick waltzes and crunchy postpunk to ADD-pop (see the hyper opener La Rat) 4 stars (Uncut).
''Opposite Sex is the most charming thing you've heard. We thank New Zealand for this gem.'' - Our Favourite (Sweden)
The Prophet Hens:
''I really like that. I'll be playing more tunes from that in future, no doubt about it.'' - Marc Riley BBC6music
The Puddle:
''It places [George] Henderson squarely where he has long deserved to be: among the pantheon of Kiwi rock deities ... it's impossible to deny the charm of these 17 tracks." - 4 stars Otago Daily Times
Males:
''Franticness with a deft touch, an embarrassment of impeccable melody hooks, Males Males Males/Run Run Run is still another entry in the premier debut class of a very prolific 2013 and certainly the liveliest. Kind of record that, really quite literally, makes you feel aliver than alive.'' - Caught in the Carousel
---