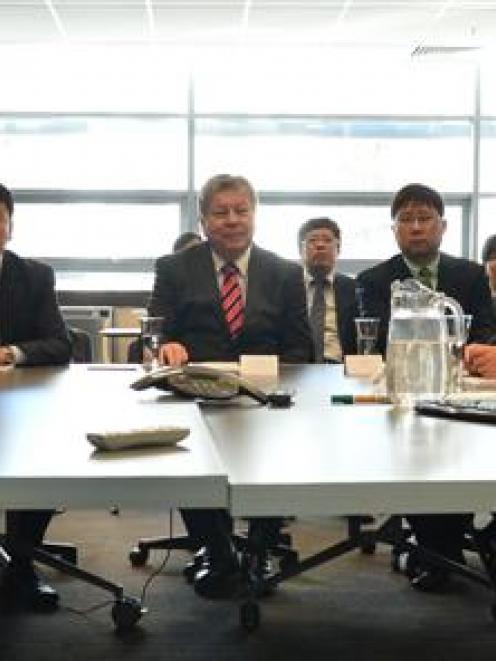 Members of a Chinese delegation in Dunedin to sign the city's first economic partnership arrangement with another city, say they are looking forward to improving the two cities' investment and trade relationships.
Vice-mayor of the city of Qingdao in China's east, Mingyin Liu, told those gathered for the signing it was an ''extraordinary'' day for two cities that had much in common in terms of their focus on tourism and education.
''We must advance our co-operation in both investment and trade. In the future both of us can further our co-operation in trade, education, health care and investment.
''I believe with a joint effort we can achieve good results for both of us,'' Mr Liu said through an interpreter.
Qingdao is a major centre in China's Shandong province, with a population of more than 8.7 million people, and is home to the Haier Group, which owns Fisher and Paykel.
The memorandum is between the Qingdao Municipal Government's bureau of commerce and the Dunedin City Council's economic development unit.
The delegation of 15 people from Qingdao was welcomed by the council's general manager of infrastructure and networks, Tony Avery, who said the agreement linked the two centres for commercial benefit.
''With this signing we look forward to a productive and positive relation that grows our businesses, results in better understanding and a friendship we will both value.''
He hoped the group had had a chance to explore Dunedin and get a taste for some of the possible relationships they could have with the city and looked forward to more discussions over time that would enhance economic opportunities between the two cities.
Deputy mayor Chris Staynes told the group he had been impressed with Qingdao's growth when he visited as part of a council delegation to China in April this year, and hoped the economic benefits accrued for both cities through the new agreement would result in growth in Dunedin similar to that which had occurred in Qingdao since his visit about seven years earlier.
The group visited Fisher and Paykel and had a quick tour of the university area, the Chinese Garden and Toitu Otago Settlers Museum, before leaving about 3pm.
What's in the agreement?
The two parties aim to:
- Provide economic and trade assistance to establish an economic partnership between Qingdao and Dunedin. Exchange trade and investment information every three months.
- Promote trade exchanges and expand the scale of imports and exports. Attend mutual trade exhibitions. Establish co-operative training and exchanges. Promote co-operation in sectors such as finance, tourism, trade and innovation.
- Establish a regular forum to develop an economic partnership.