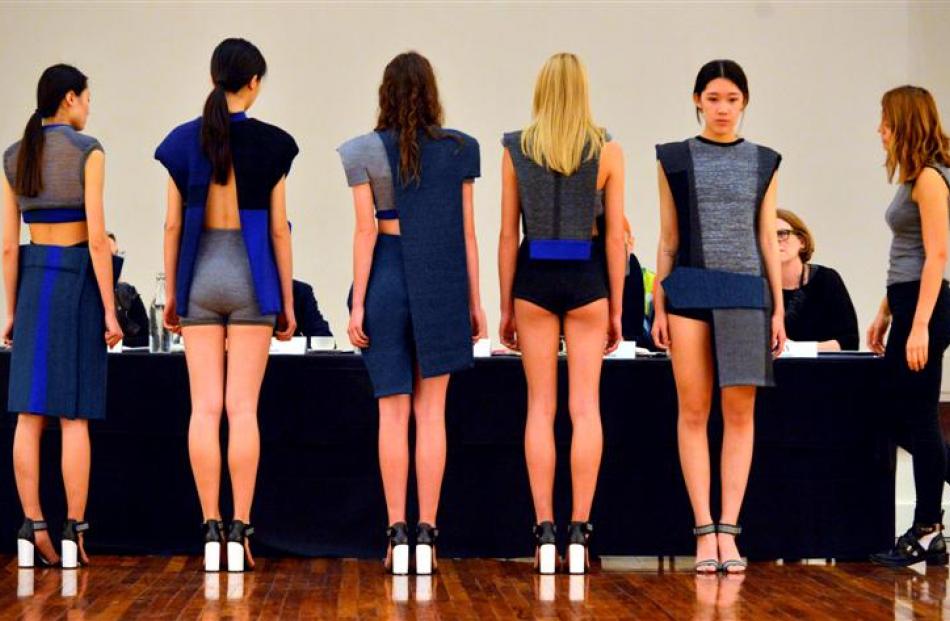 Unbridled creativity will be on show at the iD International Emerging Designer Awards in the Dunedin Town Hall tonight.
The sold-out show will offer a glimpse into the next generation of global fashion.
Five-piece collections by 26 graduate designers from throughout the world have been judged and are ready to be modelled on a specially-made catwalk for the capacity crowd of 1350 people.
Judges included Dunedin designers and iD stalwarts Margi Robinson (Nom*D) and Tanya Carlson, as well as WORLD co-founder Francis Hooper, of Auckland, Paris-based Australian designer Martin Grant and Singapore-based fashion academic Lucy Jones, of the United Kingdom.
They spent yesterday assessing each collection, talking to designers and allocating awards, which will be announced tonight.
Mr Hooper, who also judged the awards in 2009, said it was an ''amazing'' event because the designers were young, fresh and uninhibited.
''Because they've just graduated, they are not so commercially focused, so you get to see their pure energy and creativity. It's wonderful, because in reality it's all about selling and sometimes the life of things gets beaten out for practical reasons.''
The calibre of finalists' work was ''really high'', he said, and the collections reflected advances in technology which had changed fashion aesthetics over the years.
''Laser cutting and digital technology have changed the way garments are made, printed, fitted and textured. This awards is something I see as the future of fashion coming at us.''
Mr Grant was impressed with the variety of collections, which he judged with refinement and focus in mind.
''It's seeing people who already have a very strong voice or strong direction, and they've actually identified that and gone in that direction. That's the most important thing for me.''
He said some finalists had a keen sense of couture and others' talents lay in creating for jeanswear labels or designing prints.
The multicultural nature of the awards meant audience members would see a range of international influences and styles, Mr Grant said.
Finalists have travelled to Dunedin at their own expense from throughout New Zealand and Australia, as well as from China, Italy, India and Singapore.
Dunedin finalist Hannah Heslop said the judges offered constructive criticism and advice about how she could ''commercialise'' her collection.
''It was nerve-racking, but once I got talking to the judges they were lovely and it was really good getting advice from such great designers,'' she said.
The 20-year-old, like all finalists, had 10 minutes to describe her collection and answer judges' questions.
She said although short, the presentation was ''in-depth'', and she loved being able to see other designers' collections backstage.
Tonight's show is the 10th anniversary iD International Emerging Designer Awards. More than $22,000 worth of prizes is on offer, as well as the chance to have a collection modelled in the 15th anniversary iD Dunedin Fashion Show at the Dunedin Railway Station tomorrow and on Saturday.