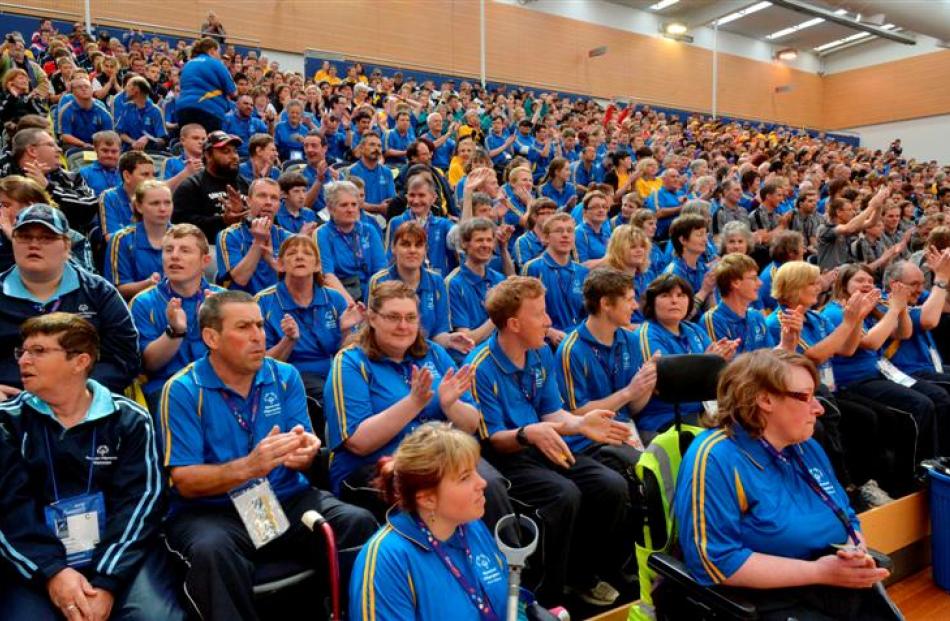 Let the games begin!
The Special Olympics New Zealand 2013 national summer games started with a spectacular, heart-warming opening in Dunedin yesterday.
More than 1200 athletes with intellectual disabilities and supporters filled the More FM Arena at the Edgar Centre for the official opening of the eighth national summer games.
Most teams had undertaken big fundraising efforts to get to Dunedin and their pleasure at having achieved that goal was evident, as competitors waved to and high-fived the crowd during the colourful march past.
''Enjoy the moment,'' a Marlborough athlete advised his team mates, as they lined up.
A Waikato athlete had the number 10 shaved into his hair.
The games are held every four years and are New Zealand's largest sports event for people with intellectual disabilities. It is the first time the games have been held in Dunedin.
Teams ranged from the 150-strong Auckland contingent to 12 athletes from Papanui High School.
There were big cheers for teams from Central, North and South Otago, which reached a foot-stamping crescendo when the Otago team was finally escorted in by a bagpiper.
The opening ceremony also included performances by the King's and Queen's High Schools' kapa haka group and a rendition of the 2013 Special Olympics anthem, Soaring High, written by former Dunedin singer Sarah Conlan.
The athletes will compete in 10 Olympic-style sports until Saturday: aquatics, athletics, basketball, bocce, equestrian, football, golf, indoor bowls, powerlifting and tenpin bowling.