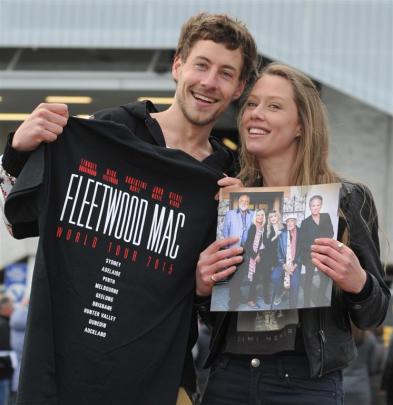 Total strangers acting like long-lost friends - that is the power of Fleetwood Mac.
While it was cold outside, warmth radiated within with plenty of hugging, back-slapping, laughing and loads of people yarning like they were neighbours, minus the back fence.
The 35,000 fans, mostly in the 50-plus bracket, grew up with the various hits from Fleetwood Mac albums, so they have a common bond.
That bond appears to have been handed down to younger generations of fans who were also at the concert.
Whether they were baby-boomers, Gen X or Gen Y, most knew the lyrics and they were on their feet belting them out with their musical heroes on stage.
One of them was Courtney Thomas-Small (31), of Dunedin, who described herself as ''the original Gen-Y Fleetwood Mac superfan''.
She said her parents had been life-long fans of Fleetwood Mac and their love was handed down to her and her brother Jordan Small (29).
''The band of my parents became mine. Back now as far as I can remember, I have waited in the wings, followed them in mind and spirit over the past two decades.
''I have listened [from my parents' 1980s vinyl collection] to the genius of their musical arrangement steadfastly, from the beginning of time - aka the time I was born, even in utero, I am told.
''Wherever Fleetwood Mac have toured, I have dreamed of going.''
She said Fleetwood Mac inspired her to learn to sing and play drums.
''Stevie Nicks is my rock singer idol, Mick Fleetwood my drumming hero.
''They formed my faithful backdrop, my musical inspiration, way down in the room my dad foolishly tried to soundproof.''
She went on to study music at the University of Otago.
Also in the crowd was wheelchair-bound Sarah Leckey (41), of Christchurch, who had melanoma lesions removed from her leg and skin grafted on to the wounds on Monday.
She was supposed to be in hospital recovering for five nights, but she did not let that get in the way of
seeing her favourite band. She convinced the doctors to discharge her.
''I really wanted to hear Go Your Own Way live,'' she said.
Maurice (64) and Dianne (63) Daniels certainly went their own way to hear the band.
The Kapiti couple rode their motorcycles from the North Island town to Dunedin, just to see the band live in concert.
''It was a good excuse to go for a ride. That's why we came to the Dunedin concert, rather than go to the Auckland concert,'' Mrs Daniels said.
Senior Sergeant Darryl Lennane, of Dunedin police, said behaviour had been good considering the size of the concert and only two arrests had been made, both for disorderly behaviour, by 10pm.