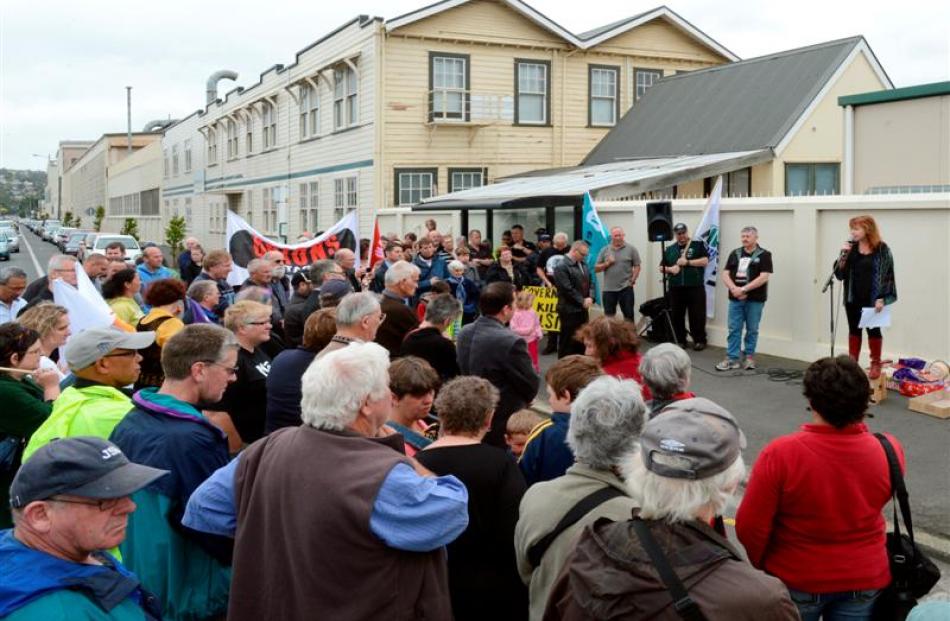 Down but not out, redundant Hillside workers are vowing to fight on amid hope the South Dunedin manufacturing facility will be resurrected under a new government.
The 130-year-old workshops were all but closed yesterday as a further 35 staff finished, leaving just a handful to operate the heavy lift for KiwiRail and the foundry for Bradken.
A ceremony outside the main gates in Hillside Rd at 11am attracted about 120 people, including workers and their families, union delegates and members of Parliament.
Wreaths were laid under the Hillside World War 1 and World War 2 memorials and flowers placed alongside.
An emotional moment of silence for all past and present Hillside workers was followed by angry speeches blaming the National Government for deliberately rejecting Hillside tenders in favour of buying cheap Chinese rolling stock.
Rail and Maritime Transport Union (RMTU) Hillside branch assistant secretary Dave Kearns said Hillside's demise was a ''crime against workers everywhere'', a crime committed by ''this Tory Government'' and the government-appointed KiwiRail board.''
There's only one thing to do when you get knocked off your feet and that's to get back up and fight on,'' he said.
RMTU Hillside branch chairman Stuart Johnstone used sarcasm to make his point, while accompanied by his 2-year-old daughter Lucy.''
For us workers, one of the disappointments is we haven't been backed by our board, so thank you very much John Spencer [board chairman] and the board for not supporting us, not supporting our families. We really appreciate your lack of effort,'' he said. The speech was Mr Johnstone's last act as chairman of the union branch, which has been disestablished, and his last at Hillside due to his redundancy.
Labour Party MPs Clare Curran, David Parker and David Clark each spoke about the unnecessary demise of Hillside and New Zealand manufacturing in general, pledging to reverse the situation if Labour is returned to government.
Dr Clark read a statement on behalf of Labour leader David Shearer, who was attending a ''similar'' rally at the railway station in Wellington, he said.''
It is a huge blow to all of you, the community and the city as a whole. The story of Hillside needs to be told ... KiwiRail carriages should be built in Kiwi workshops by Kiwis,'' Dr Clark said.
Ms Curran cited a previous petition signed by 14,000 Dunedin residents supporting rail investment which she said was ''blocked'' by Parliament, and talked about Hillside tenders for rail work which were also rejected.
''It's shameful - 130 years of history is out the door. This is not over. We will keep fighting to have trains and carriages built at Hillside and we will keep fighting to expose the lies that have been told,'' Ms Curran said.
''Hillside is seriously wounded, but I believe that heart will beat again,'' she said.
Mr Parker mentioned a BERL report commissioned by the Dunedin City Council and Otago Chamber of Commerce which showed the economic benefits of Hillside producing rolling stock.
He said the report was ignored by the National Government and New Zealand was poorer as a result.
''Government has got what it asked for, which is no more workers at Hillside,'' he said.
The final word went to RMTU Hillside branch secretary Les Ingram, who said the fight to save Hillside had been ''one hell of a ride''.
''This wasn't the end we wanted, but we will be back.''