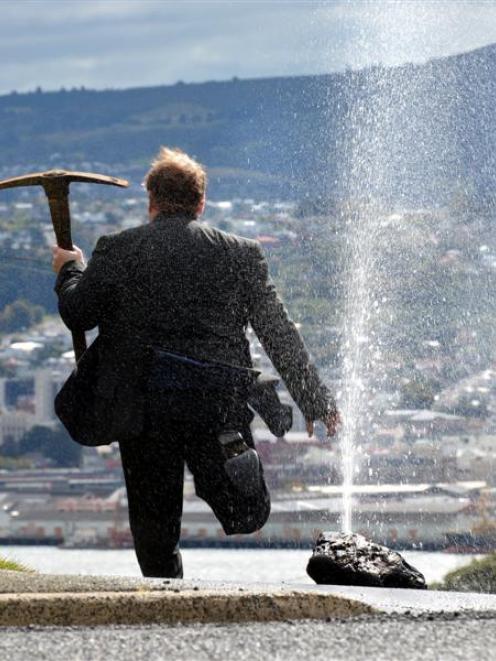 If you got sucked into yesterday's
Otago Daily Times
April Fools' Day prank about water meters being covertly installed in Dunedin, don't feel like a drip - you weren't the only one who fell for it tap, plug and sink.
The article suggested water meters had been secretly installed by contractors over the past year and would be used to measure water use to charge residents.
Residents would be allowed 45 litres of free water each day, enough for drinking water, three minute-long showers and six flushings of the toilet before being charged at 50c per litre thereafter, the article said.
It also suggested the revenue from the water meters could be used to help pay off Forsyth Barr Stadium debt.
The ODT was flooded with more than 150 phone calls and emails from subscribers about the article - ranging from livid to laughing.
Many readers questioned the accuracy of the figures in the article, but still the penny did not drop.
''Surely those figures quoted can't be right?'' one reader said.
''Auckland pay $1.343 per 1000 litres for incoming water and pay a wastewater charge on top of that.
''50c per litre? That's up there with bottled water!''
Another reader said it was a ''shameful'' act and criticised the Dunedin City Council for ''running around like headless chickens trying to find ways to finance the disastrous white elephant that is the stadium''.
The prank reached far and wide.
The kind owner of a Christchurch trucking company phoned the ODT offering to send several of his water tankers to Dunedin, filled with free water for the city's residents who could not afford the new water-charging regime.
Some readers cottoned on and took the opportunity to add to the hype.
''I think it's great. It will encourage more people to do as we do - dance around naked outside when it's raining with a bar of soap.''
Another suggested Dunedin residents could share communal showers once a week at the stadium.
''A little personal hygiene achieved while also watering the turf?''
While some saw the funny side of the prank, others most certainly did not.
One declared it was in ''very poor taste'' for an April Fools' joke.
This was the latest in a long line of Otago Daily Times April Fools' jokes.
Some of the most memorable gags have included: Speight's Brewery dispensing free beer from its Rattray St public water tap; the ploughing of the Carisbrook Stadium pitch days before a test between the Wallabies and the All Blacks; the selling off of sections of Pembroke Park in Wanaka; and the Hindon farmer who claimed to have bred a ''Shabbit'' - a merino sheep crossed with a rabbit.
Whatever your thoughts about this year's April Fools' joke, one online comment from ''jegenes'' summed up most people's online comments: ''You gotta love the ODT ... Happy April.''