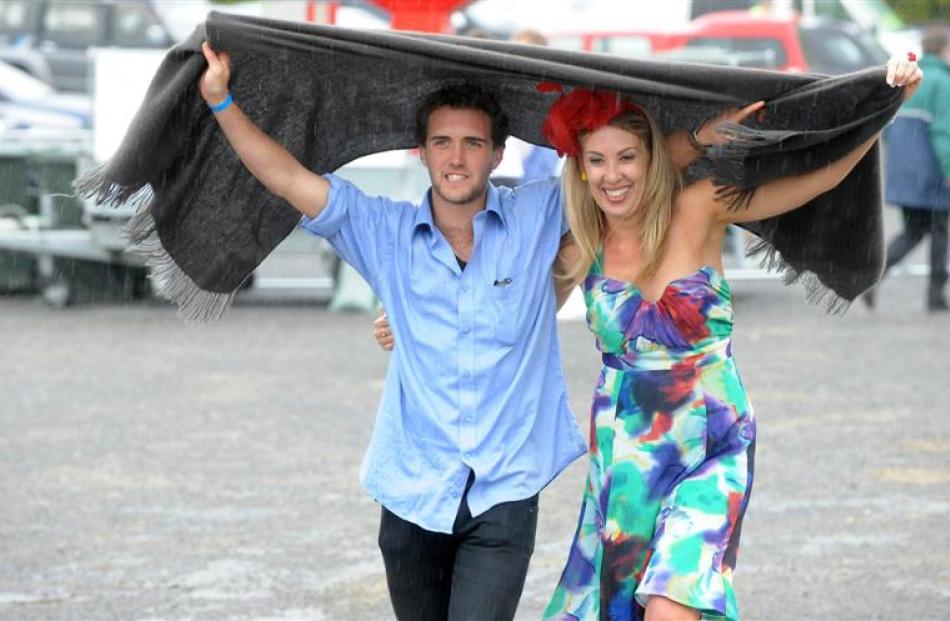 The weather put a damper on many outfits at Melbourne Cup Day at the Wingatui racecourse yesterday.
A cool southwest breeze wreaked havoc on the shortest of the short dresses, hopes of working on a tan were dashed as goosebumps reigned supreme, and men's chivalry was to the fore as many a lady wrapped up in a suit jacket.
A heavy shower of rain about 6pm sent racegoers scurrying for shelter in the stands and hospitality tents or streaming to the exit.
It was, however, a more co-ordinated outfit the judges of Fashion on the Field were looking for.
The annual race-day fashion event attracted more than 60 entries this year, all vying for a prize package of $2000 of Arthur Barnett vouchers, $800 worth of Elizabeth Arden cosmetics and a $500 Brent Weatherall Jeweller voucher.
There was no strong theme coming through on the runway, although wedge heels, home-made fascinators and shades as varied as mint, orange and purple featured.
However, it was a silver and pink ensemble that came out on top.
Ange Sturgeon, of Dunedin, won the prize pack with a dress she bought for about $150 from an online auction site.
She saved the dress to wear to the Melbourne Cup Day races at Wingatui, which she attended every year.
Two years ago, she was placed third in the Fashion on the Field event, but did not enter last year.
"I'm really excited," she said about the win.
While the races produced "one of the best days out", she did have to wrap up in a blanket yesterday thanks to the temperature, which was about 10degC during the Melbourne Cup race.
Ms Sturgeon also gained entry to the semifinals of Nissan Prix de Fashion at Ellerslie during next year's Auckland Cup Week.
Judge Otago Polytechnic fashion academic leader Margo Barton said Ms Sturgeon was announced the winner because "she stood out".
"It was really classic, but it had a lot of wow factor," she said.
Fellow judge Arthur Barnett general manager Sue Smaill said the outfit was "so well put together".
"I thought the whole event was great. I thought the quality was fabulous. It was actually quite hard to narrow it down," she said.
While some racegoers were more interested in their drinks and their friends, hundreds gathered to watch the big race live on a giant screen.
The volume rose and the fist pumping intensified as it became clear there would be a close finish.
"It's a draw. Is it a draw?" one inexperienced punter exclaimed as the race finished.
It was Dunaden by a whisker.
An unusual betting strategy led to a trio of tourists ending up $520 richer.
"We didn't know any of the horses, so we picked Dunaden because it sounded very like Dunedin," a happy Alistair Jones, from Wales, said.
The race meeting was also a successful day for first-time race-goer Charlie Cawley. The ski instructor, originally from the UK, calculated she had won about $95 by selecting Dunaden and the winners of two other races.
"I've never, ever been to the races before, not even back home. I'll be coming back, though. It's been great fun."
Otago Racing club chief executive officer Andre Klein said last night the meeting had been "one of the best days of recent years".
There was a "huge improvement" in gate takings, security and crowd behaviour, he said.
"The weather was the only thing that let it down, really."
Heavy advertising of the no BYO alcohol rule before the event and stricter enforcement in the car park and at the gates led to fewer problems, he said.
"People acted responsibly and didn't try and smuggle it in. I can tell that by the lack of [non-sanctioned] beer bottles lying on the ground."
Senior Sergeant Darryl Lennane, of Mosgiel, said three people were arrested. Two were arrested for fighting on the racecourse and a man was charged with offensive behaviour after allegedly urinating in public.
Police manned two alcohol checkpoints, in Puddle Alley and Gladstone Rd. One person was taken to the police station for further processing after failing an initial breath test.
The number of arrests was "about the same as usual", although Snr Sgt Lennane said the cool weather probably helped reduce the number of people significantly affected by alcohol.
"Alcohol seems to get to people more in the heat."