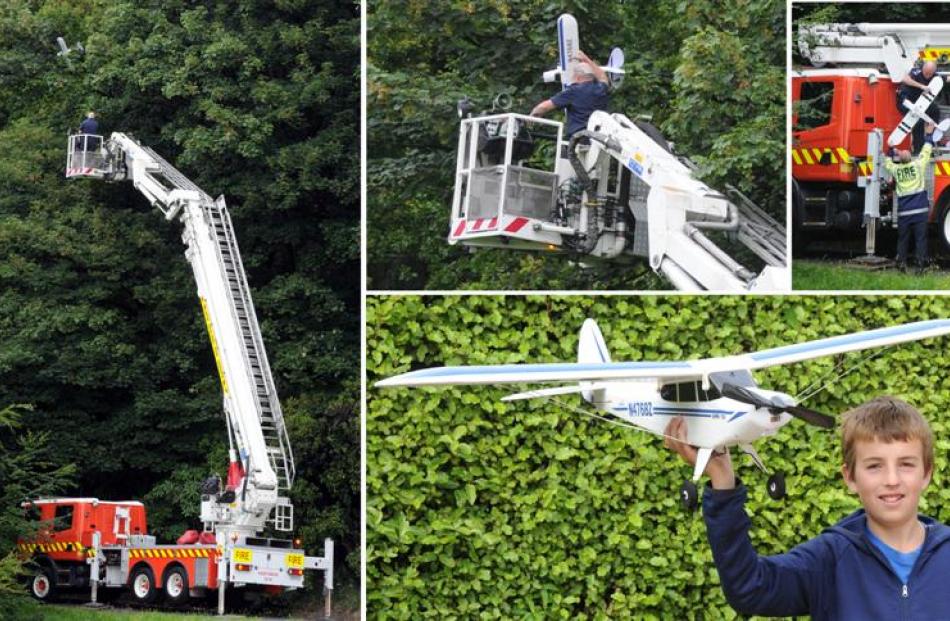 Senior Station Officer Bob Calder does a ''Christmas favour'' for a grateful Joshua Rogan, retrieving his remote-controlled model plane from the trees lining Littlebourne, in Dunedin, yesterday.
Joshua (12), of Wanaka, was piloting his new Super Cub on its maiden flight but became disoriented when he changed direction and the plane headed towards the trees.
''By the time we realised what was happening it was all over.''
The plane was stuck high up in the trees and attempts to retrieve it were abandoned because it got a ''bit hairy'', his dad Phil Rogan said.
Mr Rogan called the Dunedin Fire Service and asked if they could help.
Yesterday, Mr Calder took the turntable ladder to the grounds and rescued the plane.
''It was a Christmas favour. I could imagine what it was like not to even get to land it.''
It was Mr Calder's first plane rescue - but he has retrieved golf clubs and a parachutist. Mr Rogan said getting the model plane back made his son's day.
''He was most upset yesterday. Next time we'll go somewhere without trees.''