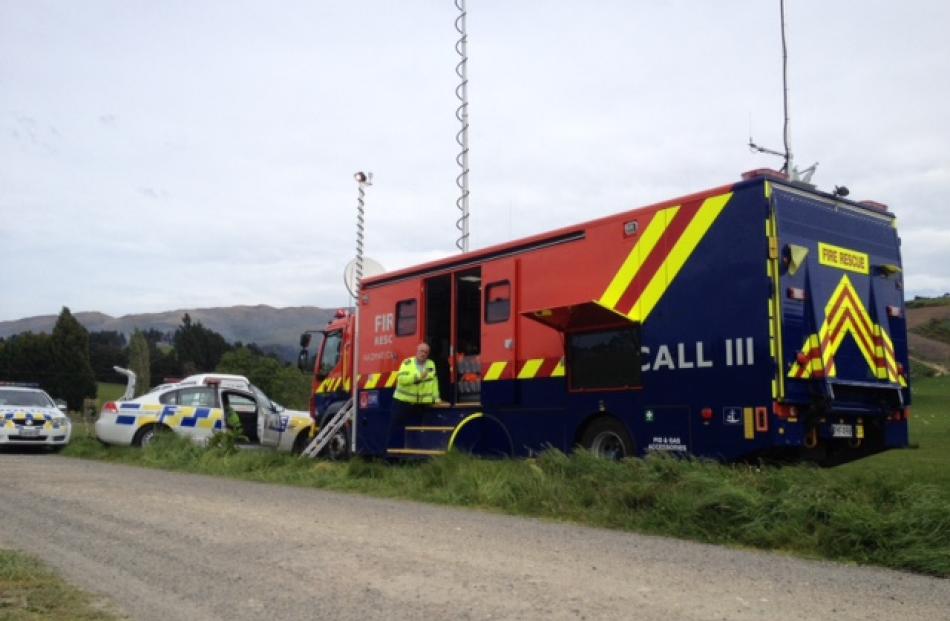 A large fire that has been blazing near Outram is now under control, the fire service says.
Otago Rural Fire Authority spokeswoman Stephanie Rotarangi said the blaze had been contained.
She said there were still six crews on site and helicopters were still helping to put the fire out.
"We are confident that the fire is contained now so we are just working on putting it out."
She said they had managed to protect the houses nearby.
"The New Zealand Fire Service and the Otago Rural Fire Authority have done a great job with protecting these houses today."
Ms Rotarangi said she was unable to say when those evacuated would be allowed back into their homes and a decision would be made later in the day.
The fire, along the ridge of the Maungatua Hill Range, forced the evacuation of a number of properties on nearby McKendry Rd this morning.
Residents in neighbouring Woodside were also contacted regarding a potential evacuation if the fire was to spread.
Annette Harrex has 2000 ha of property with her husband on the shoulder of McKendry Rd and State Highway 87.
She said she believed the fire had affected part of their property.
"Most of it that's burning is gorse and some bush and scrub and it has come down on to neighbours and burnt some of their trees," she said.
Ms Harrex said in September they did a controlled burn off of their farm to clear some paddock for cultivating.
She said everything was all clear for the last six weeks.
"Just overnight in the winds it has fanned up, started off as a puff of smoke and next minute it's burning right across the front of the hill."
She said the fire got quite close to some properties and at one stage was within about 20m of one house.
The Fire Service and police have asked members of the public to stay away from SH87 near Outram.
Earlier this afternoon a resident of Woodside Rd said the fire seemed to be settling down.
She said the smoke was dying out and there was no longer ash falling.
"They have the bit up above Woodside more contained now."
"I got up at 7am and noticed a bit of smoke and then looked up and it was just bellowing.
She said the helicopters soon arrived and from there the fire got "progressively worse".
"It was horrible. Our roof is covered in ash."
She said police had called by the house earlier to warn of potential evacuation. 
"The police came a while ago and told us to get insurance papers and any personal stuff ready because the next call if they came back will be that we have to go.
"We had that word just to get treasures out, so we got a box of photos out from the roof. The ash had come in the roof cavity as well." 
Evacuees were advised to go to the Outram Presbyterian Church Hall on Holyhead St.
Meanwhile, at Ettrick, up to 40 firefighters managed to bring under control this morning a scrub fire, also fanned by the wind, that burnt 5ha of farmland.
New Zealand Fire Service communications spokeswoman Rachel Butler said the fire started in scrub about midnight and was fanned by strong winds.
Two separate fires started on the same property, one covering 4ha and the other covering 1ha.
``One house was threatened - the caller who rang emergency services said it was getting close to her home at one stage.''
Arcing power lines were involved in starting the blaze, she said.
By Craig Baxter, Lynda van Kempen and NZME.
Video by Hamish McNeilly.