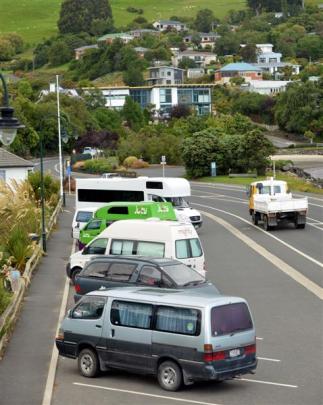 A new rule allowing freedom camping for non self-contained vehicles at three sites around Dunedin is proving so popular the Dunedin City Council might alter its servicing arrangements for toilets and rubbish bins to cope with demand.
The council has been alerted several times this summer to overflowing rubbish bins and increased use of toilet facilities at the three sites next to public toilets at Macandrew Bay, Ocean View and Warrington.
''It's nothing unexpected, or particularly terrible, just an increase in use, and we are just working out when that use is spiking to work out what we need to put in place to deal with that,'' council reserves policy and planning officer Paula Dickel said.
The council eased freedom camping rules in the city late last year, to allow up to three self-contained campervans - those with toilets on board - within a 50m radius to stay on sealed areas of reserves and other public land for up to two nights.
Vehicles without toilets previously could not stay anywhere overnight, but now up to five vehicles were allowed to stay for one night in the three designated areas.
Ms Dickel said staff had been getting feedback from council contractors, the public and from the hall committee near where the toilets were at Macandrew Bay, and hoped to enlist more people to give them more feedback on demand peaks and troughs, so the council could work out what cleaning needed to be included in future contracts.
The bins and toilets were cleared regularly, but there would be a small lapse as the council worked out how much more cleaning was required.
In the meantime, anyone who saw bins overflowing or toilets needing cleaning was encouraged to report them immediately to the council, and contractor would be sent out to deal with them.
For people staying in the wrong places, the council was reliant on people reporting campers.
Any information people needed on camping around the city was available on the council's website, Ms Dickel said.