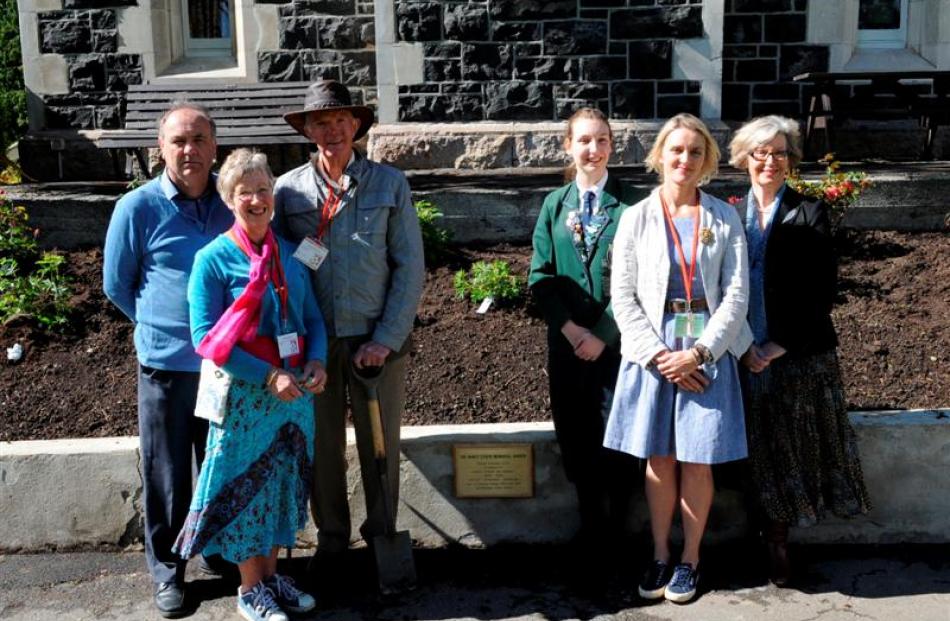 What better way to pay tribute to the woman who saved many of New Zealand's heritage roses from extinction than to create a garden filled with them at her former school.
The late Nancy Steen (nee Acheson) was a pupil at Columba College in 1915 and 1916, and in later years was widely acknowledged for saving many heritage roses in New Zealand and being the major contributor to their rejuvenated popularity.
The Nancy Steen Memorial Garden, beside the Bishopscourt Boarding House, in Dunedin, has been planted with heritage roses donated by the New Zealand Heritage Roses Association, and some companion plants from Mrs Steen's original garden in Auckland.
The planting plan for the garden was drawn up by Mrs Steen's original gardener, Martin Keay.
The garden was officially opened yesterday as part of the New Zealand Heritage Roses Association Conference, held in Dunedin over the past four days.
Mrs Steen's grand-daughter, Sarah Yates, attended yesterday's ceremony, along with Heritage Roses New Zealand Institute president Fran Rawling, World Federation Roses Societies Heritage Roses Committee president David Ruston and about 100 Heritage Rose members.
Mrs Rawling said it was a fitting tribute to Mrs Steen.
"She spent many years researching and writing about New Zealand's heritage roses, and she was a world renowned rosarian.
"This [the garden] is a very special tribute to Nancy, and her family and the school are very honoured it has been created."
The conference has been hailed an "outstanding success".
Mrs Rawling said earlier the conference had exceeded expectations, with more than 160 delegates attending.
The aim of the conference, entitled"Heritage Roses Lost and Found", was to stimulate interest in a growing database of New Zealand's heritage roses.
The project, which began 18 months ago, had collected 1500 types, many of which had been "off the radar", Mrs Rawling said.
The conference educated delegates about how to identify heritage roses in their own regions to add to the database.
Mrs Rawling believes the database is a world first.
About 10% of delegates were from overseas.