Dunedin's new hospital will be built to withstand whatever nature can throw at it, rebuild chairman Pete Hodgson says.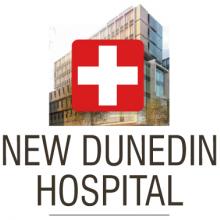 One of the major reasons for deciding to build a new hospital rather than renovate the existing buildings was because the current facility did not meet the "Importance Level 4" earthquake standard.
Facilities such as hospitals require that rating as it means they should remain upright and operational after a major disaster.
The new hospital - to be built on the Wilsons/Cadbury blocks in the central city - will be largely on reclaimed land, raising issues about stability and liquefaction in the event of a major shake.
Dunedin is regarded as an area of low seismic risk - there have been three major quakes in the past 12,000 years and the last significant damaging quake was in 1974.
However, the recent Canterbury and Kaikoura quakes were reminders big quakes could occur in the South Island.
"In an earthquake, the important thing about a hospital is whether it stays standing - it has to stay up when lots of other things have not," Mr Hodgson said.
"Planning involves thinking about how the hospital will be available to be part of the recovery effort, and how the health system can keep functioning."
Extensive geotechnical work is one of the first contracts that will be awarded for the hospital rebuild, with IL4 requirements for foundations an essential consideration for building locations, Mr Hodgson said.
The future hospital site spans two known flood hazard areas, the Leith and the coastal zone.
The current hospital is closer to the Leith, but parts of the north of the new site could be affected by a major flood.
The Otago Regional Council has carried out extensive mitigation work on the Leith in recent years and operates a flood protection scheme on the stream, which flows for 14km through the city.
"If the whole of the CBD floods, as happened in 1929 - including the hospital - all the advice we have is that the flood will drain quickly, within hours," Mr Hodgson said.
"The important thing is does the hospital keep running - and if the flood is bad enough it has probably taken out some services, so there will be questions about things like fresh water and electricity supply."
The Dunedin City Council has chemical contamination hazards listed on some of the land destined to be used for the hospital, although planners told the Otago Daily Times not to levels which were unusual compared with other CBD industrial sites.
"There are some known unknowns, and what we might strike in the geotechnical sense and in the hazardous waste sense are two of them," Mr Hodgson said.
"We can't begin to progress on that until we own the sites and have access to them."
Two nearby University of Otago building projects - the renovation of the Dental School and the research support facility building - have both met delays due to issues with soil contamination and difficulties with piling.