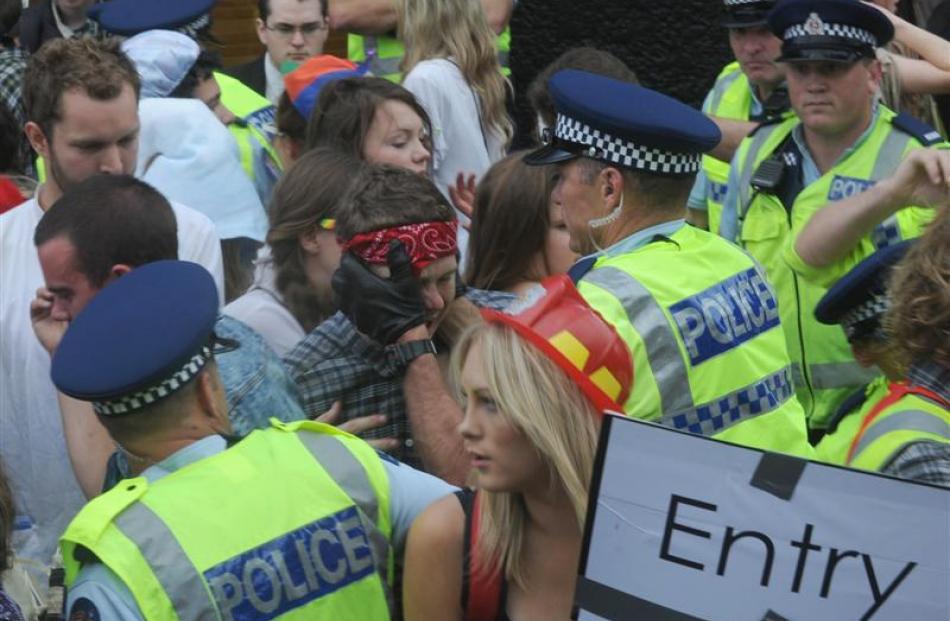 What would bring Ronald McDonald, Buzz Lightyear, the Super Mario Brothers and Cookie Monster together in one place?
It could only be the Hyde St keg party, in Dunedin.
The annual student event attracted about 5000 (my guesstimate) people on Saturday, with festivities beginning not long after 5am.
By 10am, about 500 people filled the street, swelling to about 1000 by noon and 5000 by 3pm. Light showers around 4pm prompted some people to leave, with most of the revellers gone by 6pm.
Some people came dressed as superheroes, corporate identities or cartoon characters, while "lifeguards", "construction workers" and "pilots"' mixed with "Smurfs", "zombies" and "fairies".
One group stuck to current affairs by dressing as Joseph Kony and his Ugandan guerrilla unit, while another took a lighter approach by raiding their mothers' 1980s garb to dress in "double denim".
The flats were also decorated, with themes including a pool party, Out of Africa and Hyde Airlines.
A band and DJ entertained the crowd, who abided by the glass ban by drinking from cans, soft-drink bottles and cask bladders.
Others got creative, utilising drenching packs, a keg strapped to a lawnmower, and a chilly bin on wheels.
Polish tourist Daniel Molendowski joined media outlets documenting the event after he "saw people coming here and just followed them".
He was amused by the party, though surprised to be told it was an annual occurrence.
"It's crazy - it's 12 in the morning. This does not happen in Europe," he said.
Otago University Students Association events co-ordinator Koren Allpress said the party had already started when she arrived at 7.30am to set up the street barriers and portable toilets.
"The music was cranking; they were having a good time. Apparently, they started about 5.15," she said.
St John had a first-aid tent on Albany St, police assisted OUSA with glass checks at barriers at either end of the street, and on-campus Christian group Red Frog ran barbecues and water stations.
"Everyone is having a really good time - trouble-free. We are really happy with how it's going so far," she said.
However, by 3pm, safety concerns resulted in police instigating a one-way-door policy on both ends of the street, frustrating some intoxicated people who were not allowed in.
Party-goers had also taken to climbing on to roofs, with one man falling.
One roof collapsed.
A burst of rain at 4pm cleared many from the street and other party-goers began stumbling towards flats in the wider area shortly after.