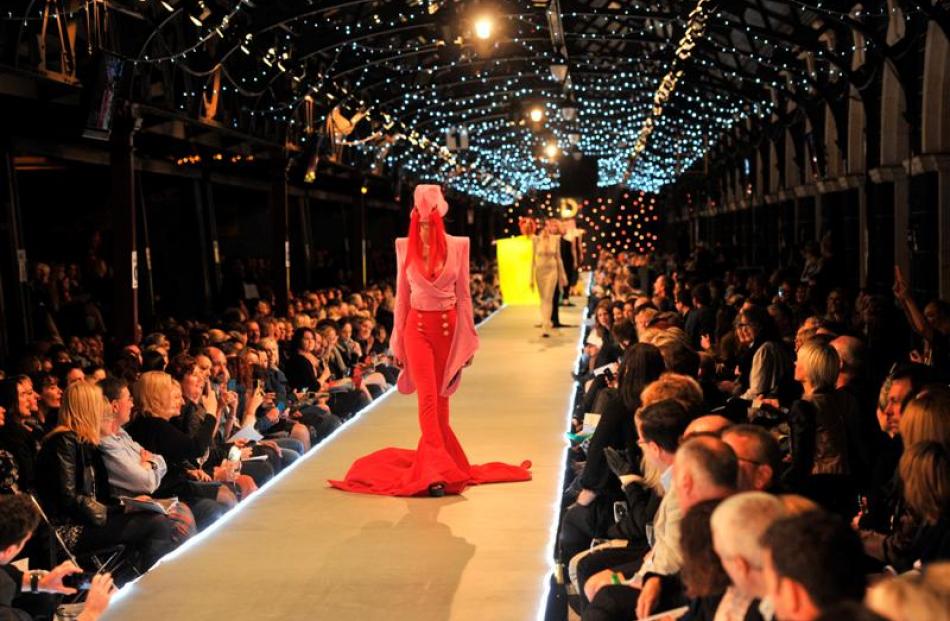 The catwalks have been dismantled, but iD Dunedin Fashion Week is far from over.
Organisers estimate this year's 15th anniversary event was the most successful yet and anticipate continuing benefits for designers, retailers and the city.
Thousands of people bought tickets to shows - all sold out - hundreds attended the more than 30 other events, exhibitions, presentations and parties, and potentially millions of people worldwide have been exposed to media and publicity about the week. 
iD committee chairwoman Susie Staley is exhausted, but thrilled.
All anecdotal evidence pointed to this year's showcase being the best yet, she said. 
Dunedin retailers had reported swathes of shoppers, it seemed more people had travelled to Dunedin for the event, and those involved for the first time had nothing but praise for iD, Ms Staley said.
''It's been huge. We are very pleased. The lead-up was great, tickets were snapped up much earlier and our guests were blown away.''
The week went off without a hitch and the use of the Dunedin Centre and town hall for the first time impressed audience members, as well as designers, models, guests, make-up artists, hair stylists and organisers.
Ms Staley said despite the annual growth of iD and its individual shows, it would not get too big for Dunedin, as had happened to the World of Wearable Art show, in Nelson.
''When we first started iD we saw WOW as a model because they started off in a paddock and went from there. But you couldn't hold the railway show anywhere other than the Dunedin Railway Station, and as for the emerging awards, in our view those events are inextricably linked,'' she said.
The iD Dunedin Fashion Show attracted 3200 people over Friday and Saturday nights, and demand for tickets exceeded capacity.
''We have been inundated with people wanting tickets. It's impossible to say whether we could have sold another show, but certainly we had direct requests for hundreds more tickets,'' she said.
The iD International Emerging Designer Awards at the Dunedin Town Hall had an audience of 1350, and 240 people packed the Golden Centre mall for the Darnell Collection show.
The Tanya Carlson wedding dress exhibition at the Dunedin Public Art Gallery has been one of its most popular displays, and about 120 people attended the designer's talk to launch it.
The same number listened to World co-designer Francis Hooper speak about his career and the business of fashion, at the gallery, and another 100 people attended a panel discussion about shoes at the Otago Museum.
Breakfast talks with Dunedin designers Sara Munro, of Company of Strangers, and Margi Robertson, of Nom*D, drew about 50 people to Pier 24, recycled fashion parades by Dunedin school pupils were supported by more than 100 staff, parents and friends, and about 500 people sought bargains at the iD Designer Sale.
The official iD opening at the Dunedin Centre involved about 250 guests, and more international journalists attended events than ever before, including five from Shanghai and one from Jakarta.
''There has been a real vibe in the city for iD,'' Ms Staley said.
''We're proud of what we have achieved - taking a one-off fashion show and growing it into a week of superb fashion events for the city that attracts crowds from around the country.
This year we've focused on further growing the international part of the event, and are looking towards future international collaborations including developing our relationship with Shanghai, which makes iD even more global in its outlook,'' she said.
International guest designer Martin Grant, of Paris, said he loved being involved, especially as a judge of the emerging designer awards.
Fellow international guest Lucy Jones, of Singapore, was also impressed with iD and Dunedin's fashion community.
Although guests and visitors have now gone, the work continues for organisers.
They will spend the coming weeks gathering data about who attended, how successful iD was for designers and sponsors, and whether any logistical issues need to be addressed.