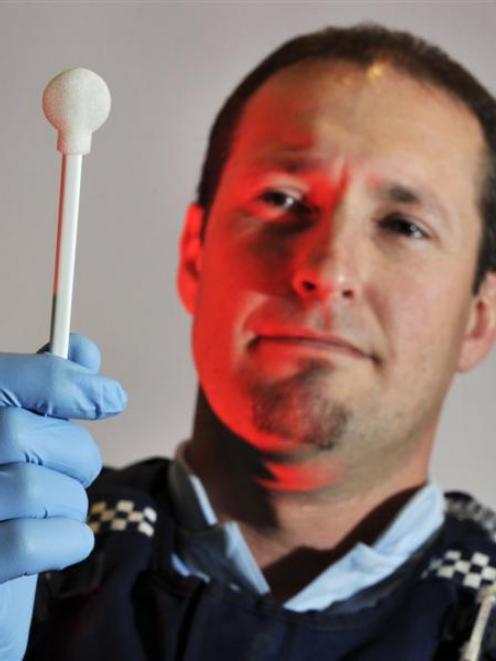 Police are welcoming enhancements to crime-fighting technology which will allow them to take more DNA samples from suspected criminals - including youths.
The Criminal Investigations (Bodily Samples) Amendment Bill, which was passed last year, would add more weapons to police's crime fighting arsenal, Invercargill Detective Sergeant Mark McCloy, the DNA implementation manager for the Southern District, said.
Until now, police could obtain DNA samples from those convicted of relevant offences, those suspected of committing indictable offences, and those who give samples voluntarily.
But under the amendments which came into force yesterday, police may collect DNA samples as they take an offender's fingerprints.
The Act has also been widened to include minor offences that may involve DNA left at the scene and have a link to more serious crime, such as peeping and male assaults female.
Police will also be able to obtain DNA from youths aged 14 to 16 if they intend to charge them with a relevant offence.
Targeting youth DNA could reduce "volume crime" such as burglary and car thefts, and enable police to rehabilitate youth offenders, Det Sgt McCloy said.
Those who gave consent would provide a buccal swab by "brushing their teeth" with a swab.
Those refusing would face an additional charge, and have a blood sample taken by force.
Samples would be sent for testing and stored in the national DNA database, which has 110,000 samples.
Other samples, such as blood or hair recovered from a crime scene, would go into the crime sample database, which by June had 24,000 DNA profiles.
Both databases are managed by the Environmental Science and Research which was ready to process the expected 6000-7000 additional samples a year from the amended legislation, forensic programme manager Dr Jill Vintiner said.
"Up to now about 12,000 individual samples were processed annually.
New robots have been installed for DNA extraction, and software systems have been upgraded to allow for changes in the legislation."
The databank is protected by a range of security features and cannot be accessed by external parties, including police.
Police National forensic services adviser Inspector John Walker said it would not lead to racial profiling, one of the concerns raised by the Maori Party which voted against the Bill.
DNA would be used to catch those who had committed serious crime, and exclude those who had not, he said.
Forensic DNA timeline
1987-88: New Zealand scientists begin training in the new technology, and introduce profiling into casework.
1990: First DNA evidence presented in NZ court.
1995: Introduction of the Criminal Investigations (Blood Samples) Act.
1996: National DNA databank and crime sample database established. 2001: Theresa Cormack "cold case" solved using improved DNA technology.
2002: New Zealand's purpose-built forensic DNA laboratory opens in Auckland.
2009: 100,000th individual profile added to databank.