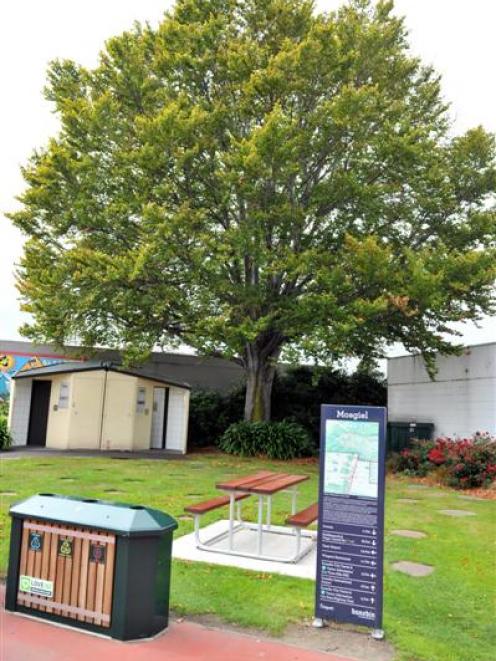 Public art might not always be about bums on seats, but it shouldn't include picnic tables either, the Otago Sculpture Trust says.
The trust has voiced concern after a Mosgiel art-lover complained about the placement of a picnic table amid the town's first piece of public art.
The Beech Leaf Stepping Stones sculpture, by German-born artist Siegfried Koglmeier, was believed to be the first piece of public art sponsored by the Dunedin City Council.
It was installed on the corner of Gordon and Factory Rds, in Mosgiel, in 1996, with its leaf-shaped concrete paving stones designed to reference a nearby beech tree.
Mosgiel resident Jan Thomson, a member of the Taieri Arts Group, contacted the Taieri Times to express concern at the recent appearance of a picnic table on a concrete slab in the middle of the sculpture.
''People might think 'so what' ... It's kind of the principle of the thing, really,'' she said.
Otago Sculpture Trust executive member and former chairman Peter Nicholls agreed, saying adding another ''element'' to the work was insensitive.
The area now appeared neglected, with no plaque describing the sculpture, and rubbish bins, a planter box, signs, bench seats and now a picnic table all cluttering the area, he said.
''I would like all that stuff gone. It's meant to honour the tree. That's what it's about. Now there's too much in the way.''
Placing a picnic table in the middle of the sculpture's leaves left it ''totally compromised'', and the artist ''wouldn't be happy at all'', he said.
Mosgiel Taieri Community Board chairman Bill Feather said the table was installed as part of a board initiative to improve public spaces.
It appeared to be well-used and he doubted the table had damaged the sculpture's integrity, given public toilets were also located nearby.
''As far as I'm aware we haven't upset it [the sculpture]. We haven't moved it ... or done that kind of thing to it.''
The table was among items of furniture built for the board by the Taieri Blokes Shed group and installed by the Taieri Lions Club, at a total cost to the board of $5000, Mr Feather said.
However, the board may have found ''a loophole we missed'' by not consulting the artist, whose location was unknown.
''Public art is foreign to us, really, in Mosgiel ... I can't say we stopped to think about that,'' he said.
Dunedin City Council parks manager Lisa Wheeler said the council had been aware of the sculpture when the picnic table was being placed and did not think it damaged the sculpture's integrity.
''As far as we're aware there's been no displacement or interruption to the pavers that make up the sculpture.''
There were no plans to move the table ''unless there's concerns raised through the community board'', but alternative suggestions were welcome, she said.