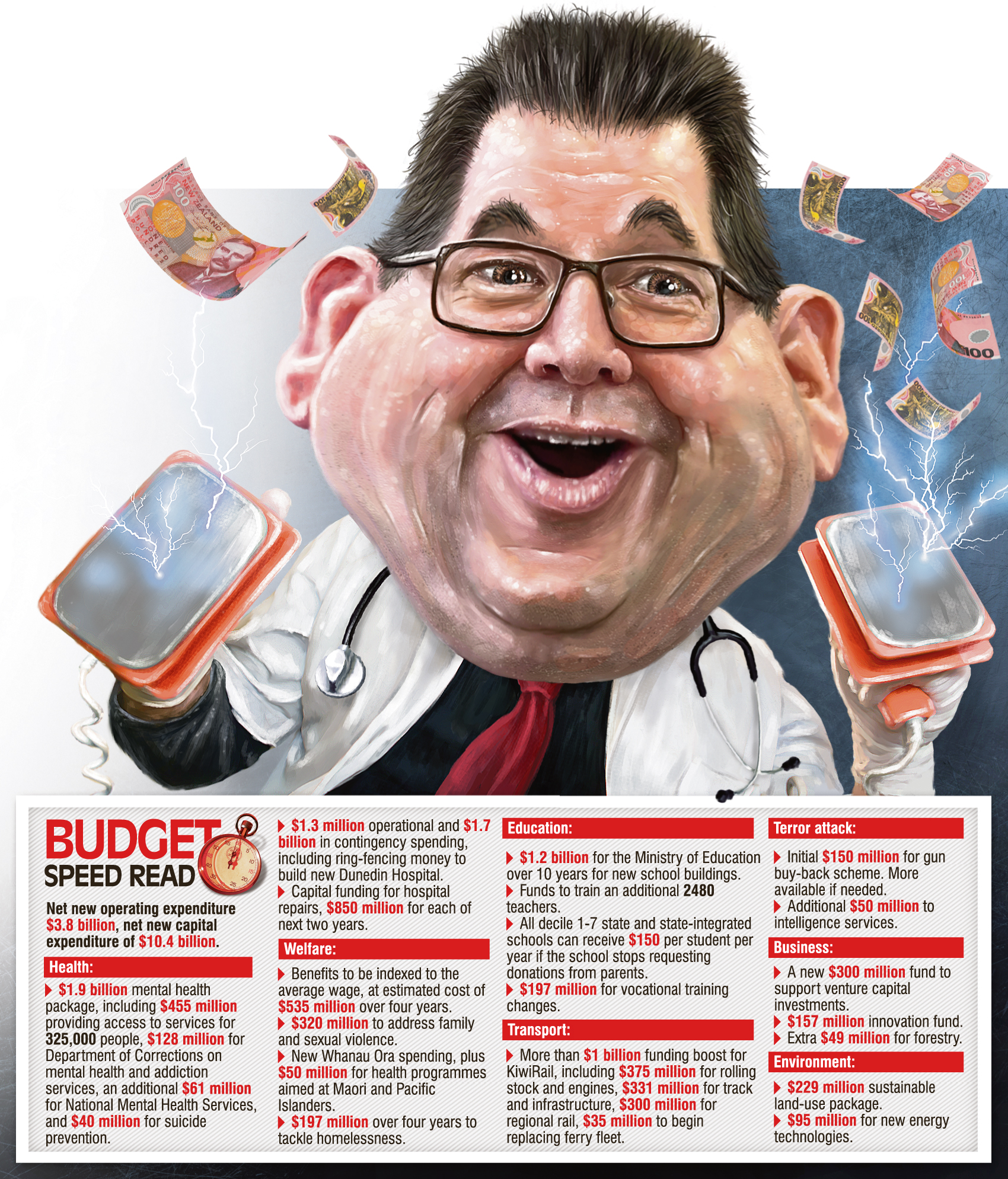 Wellbeing or well, is that it?
The first "Wellbeing Budget'' was always going to be a difficult assignment to mark, with the Government boldly stating it was breaking new ground in how a country's economic performance was assessed.
READ MORE:
Having doubled down with its "year of delivery'' slogan, the Government may have ratcheted expectations too high, as Budget 2019 does not feel radical or far-reaching.
It certainly looks different, with its corporate annual report presentation, but even then the luckless Grant Robertson could not catch a break ... after three days of embarrassing Budget leaks, the final indignity for the Finance Minister came when it turned out the Moeraki woman photographed on the cover had emigrated to Australia for economic reasons.
Perhaps Vicky Freeman should have stayed in the South: the Government yesterday confirmed funding for the new Dunedin Hospital, which will provide a huge boost for the local economy over the next 10 years.
There was more good news for Dunedin with the prospect offered by an extra $1billion for KiwiRail.
Of that, $375million is set aside for new rolling stock and locomotives.
There are no guarantees, but might South Dunedin's Hillside railway workshop once again be a temple of manufacturing?
The South Dunedin-raised Finance Minister may well have produced a very good Budget for his old home town.
More broadly, though, Mr Robertson's first Budget was criticised for its timidity and that accusation can also be levelled at his second.
Many Budget programmes sounded bold but instead will take a long-term approach to fixing a long-recognised problem.
While Mr Robertson has decried setting Budget priorities in accordance with the three-year electoral cycle, that means the Wellbeing Budget lacks the immediacy of the call to action it might have been.
Rather than applying the defibrillator paddles, it feels more like Mr Robertson is methodically performing CPR.
Health is a case in point: DHB deficits look likely to stay static at best and worsen considerably if the Government's additional funding proves too little, as it so often does in this cash-hungry sector.
The $1.9billion mental health package, on the other hand, is long-awaited and will hopefully invest money wisely to give some of the nation's most vulnerable the help they desperately need.
Few will quibble over the inclusion of child poverty reduction targets, although the question with those, as with so many initiatives tagged for "wellbeing'', is how robust the Government's base statistics are and how they will be measured in the future.
Possibly the most significant boost to wellbeing will prove to be an economic adjustment - the move to index benefits to the average wage will be a real change for the better for many low-income households.
The option for decile 1-7 schools to stop asking for "voluntary'' donations in exchange for a funding boost per pupil sounds small, at $266million over four years, but it will be a boon
to families at an expensive
time of the year.
Mr Robertson's economic rectitude is to be applauded; he is not sending NZ Inc broke with his new approach.
But, as with Budget 2018, he will face complaints from Labour's base that the purse strings were not loosened enough to effect genuine change.
There is a long and expensive list of issues for the Government to settle, the teacher's pay dispute being the most prominent, so that may have given Mr Robertson cause to take stock.
And, despite his protestations, Mr Robertson is also a politician and will have wanted to keep some initiatives in reserve to tempt the electorate next year.
"This is just the start of a programme of change,'' Mr Robertson said in his Budget introduction.
The Wellbeing Budget is a tentative start, one which over-promised and did not over-deliver.