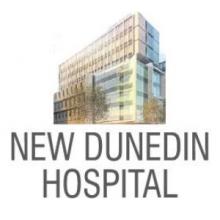 The Ministry of Health is hoping to conclude the purchase of two more properties for the new Dunedin hospital in the next two months, but has not bought any of the land it requires since early December.
The Otago Daily Times reported at that time owners had received formal notification their land was needed.
The Ministry of Health has engaged The Property Group to negotiate the land purchases.
The process includes a three-month period of discussion and valuation, in which owners decide whether or not they accept the price offered to them.
If agreements are unable to be reached, it generally takes between six and 12 months to compulsorily acquire land.
However landowners can go the the Environment Court in a case where their land is compulsorily acquired.
The ministry has already bought the Cadbury block for the new hospital, and confirmed in December it had bought land at 174 Castle St.
Asked if the land sales had moved into a new phase because the three-month discussion and valuation period had finished, a ministry spokeswoman yesterday said the sales were a commercial in-confidence process.
The ministry was negotiating constructively with landowners.
No additional land parcels had been bought by the ministry since 174 Castle St was purchased in early December, ''but it is hoped that a negotiated settlement can be agreed for at least two properties in the next two months''.