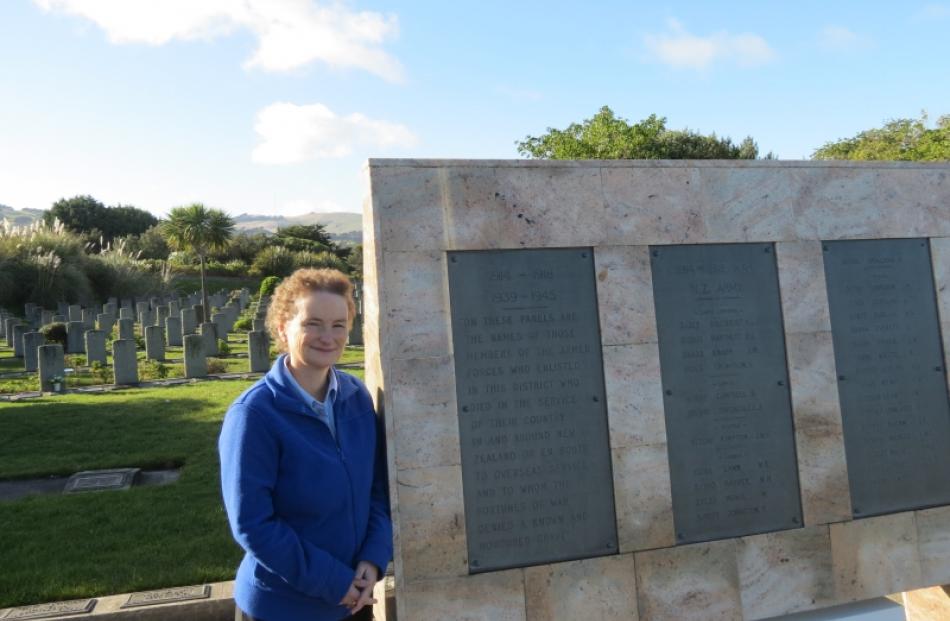 A labour of love for Dunedin woman Heather Bray is to become part of the official commemorations of the 100th anniversary of World War 1 in 2014.
For the past five years, Mrs Bray and her mother Laurel Corbishley have been transcribing names from all the war memorials and rolls of honour they can find in Otago and Southland. These have ranged from large, official war memorials in the region's cemeteries and public spaces to lists of names tucked away in businesses and schools, and even stained glass windows in churches.
''We are focusing on Otago and Southland because there is such a strong link between the two regions,'' Mrs Bray said.
Along with listing the names, the project involves finding out as much as possible about the soldiers, from where they went to school to where they were killed.
''With a bit of careful work, it is amazing how much you can find out about them as individuals,'' Mrs Bray said.
The ultimate goal of the Dunedin Family History Group president was to print a register of the 3000-plus soldiers named on the Invercargill Cenotaph, cross-referenced to other war memorials around New Zealand. The printing of the register, planned for April 2014, is part of the Government's official World War 1 centenary programme.
''The unique thing about the project is that we are creating an overall genealogical and social history to go with all those names,'' Mrs Bray said.
So far, the women have examined 300 war memorials and rolls of honour across the two regions - more than 15,000 names.
The project has resulted in some surprising discoveries, including that many soldiers are named on more than one war memorial, that about 10% of the listed names contain mistakes, and not all the soldiers named were actually killed overseas.
''So far, we have discovered one soldier who is named on nine war memorials, and his name isn't exactly the same on all of them,'' Mrs Bray said.
''And we are finding one or two on just about every war memorial who actually returned home after the war,'' she said.
It was common for soldiers' names to be recorded in different ways - some with initials, some using first names, while others used ranks or regimental numbers.
''That can make it tricky to pinpoint that we have the right person when we are trying to cross-reference them,'' she said.
Smaller memorials and rolls of honour were often created through subscriptions, with the families who could pay able to list the names as they wished - a man known to his family as ''Skip'', even though his name was William, could be listed with the initial ''S''.
Although this meant many war memorials were inaccurate, Mrs Bray believed they should remain unchanged.
''The way the names appeared was a personal thing for families, and they should definitely remain the way they are,'' she said.
The register will list the names as they appear on war memorials and contain the accurate names and personal details of soldiers.
---
Anyone who knows of an obscure war memorial or roll of honour, or who has photographs or transcripts from a memorial is asked to contact Heather Bray and the Dunedin Family History Group by email at dfhg@xtra.co.nz
---