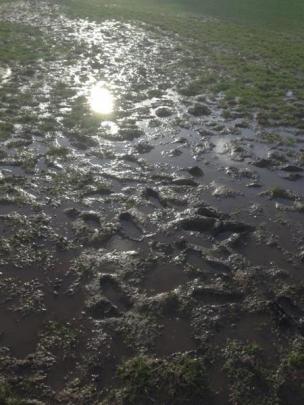 Dunedin City Council staff have conceded some sports fields are in a ''tragic'' state, but calls from some councillors for more funding to fix problems have so far fallen flat.
Instead, it appears unlikely significant extra sums will be allocated for up to three years, while council staff continue to review the city's sports field needs, council staff indicated.
The debate came at yesterday's DCC long-term plan deliberations, as Cr John Bezett called for more action to improve the city's sports facilities.
His initial focus was on Logan Park, which has long been the centre of a planned multimillion-dollar redevelopment which is still to happen.
Instead, the budget for the work had been stripped from the council's long-term plan, while Sport Otago expressed frustration at slow progress on the still-to-be-realised project, he said.
Cr Bezett wanted a new group of stakeholders formed to address the issues, to better understand the needs of the community and reinvigorate the Logan Park project.
At the same time, other city sports fields were ''failing'', and a wider facilities strategy was needed to plan for the future, he said.
Cr Neville Peat echoed frustrations about delays to a redevelopment of Logan Park, saying the council appeared to have ''taken a cup of tea on this one, if not gone to sleep on it''.
Council parks and reserves team leader Richard Saunders said discussions with Sport Otago and other stakeholders about Logan Park were ongoing, and another meeting was due later this year.
Council infrastructure and networks general manager Ruth Stokes said several key pieces of work that would inform future investment in the city's sports facilities would be completed by the end of next year.
That would include work under way on Logan Park aimed at understanding users' future needs, which was expected to be concluded by the middle of next year, she said.
She also wanted extra investment in areas perceived to be ''less loved than others'', but there remained insufficient information to make good decisions, despite the ''tragic'' condition of some fields.
That was not good enough for Cr Andrew Noone, who said some fields were already ''on the borderline'' of an unacceptable condition, and the council had given no mandate for a drop in service levels.
''I wouldn't want to see it get any worse.''
One example was Watson Park, in Port Chalmers, which was unusable at times when too wet because of well-known drainage problems, he said.
The ''core problem'' was well known, but council budgets contained no funds to fix it, he said.
Mrs Strokes agreed Watson and Brighton parks had been discussed ''for far too many years'' without being addressed.
''But at this point in time I wouldn't feel comfortable saying `yes we have got to sort out Watson and Brighton and it's going to cost X', because we don't know.''