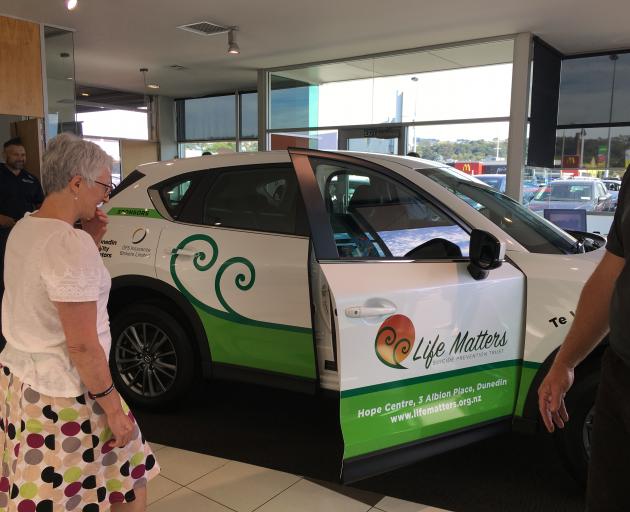 Life Matters Suicide Prevention Trust's new car will help spread the message that it's OK to ask for help.
Trust founder Corinda Taylor hoped people seeing the trust's new sign-written Mazda CX 5, given by Dunedin City Motors, would "take the shame out of asking for help''.
Ms Taylor said she was contacted by dealer principal Robert Bain last year and the two discussed the possibility of partnership, but she never expected to get a car.
"Much to my surprise he contacted me just before Christmas and [said] come in and have a look, and there it was.''
Mr Bain handed over the keys on February 11.
"I did not think this was going to happen. It's going to make a huge difference for us.''
Previously, the trust would store things in garages and trustees would use their own cars at their own cost.
Ms Taylor said it was another way to show people that the trust and its services were part of the community.
"We're very excited to drive it.''
Dunedin City Mazda new vehicles sales manager Dan Freeman said the trust did a lot of good in the work in the community, and the car allowed them to advertise their services.
"The most important thing is making sure the message is getting out there.''
JESSICA.WILSON @thestar.co.nz