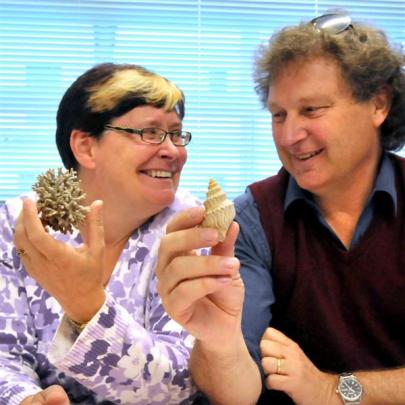 When Hamish Spencer calls his wife an old fossil, it is not the insult people might think.
In fact, his wife, Abby Smith, could throw the line right back at him, as the couple both have species named after them.
French and Russian scientists recently named a deep-water snail found off the coast of New Zealand Hortia spenceri in honour of Prof Spencer's work recording mollusc species.
And British scientist Paul Taylor, of the Natural History Museum in London, and a colleague decided to name a tiny bryozoa Exochella abigailae after Associate Prof Smith (her last name was too common so they used her first name, Abigail).
''I met him at a conference in London and he asked if I had a bryozoa named after me and when I said, 'No', he said, 'I must fix that','' she said.
The naming recognised her contribution to knowledge of bryozoan skeletal mineralogy, geochemistry and taphonomy, a paper published in the Journal of Systematic Palaeontology, said.
''It's a real honour. I was tickled to death.
''I'd had a rotten day, the day I heard, and that really cheered me up,'' Prof Smith, head of the University of Otago's marine science department and a geochemist, said.
Prof Spencer, an evolutionary geneticist and director of Otago University's Allan Wilson Centre, which uses genomic technology in tandem with biomathematical analysis to better understand New Zealand biodiversity, was also flattered.
He had no idea of the honour until a colleague suggested he read the paper published in Zootaxa, and he did not know the scientists.
''These are big names and it's not the area I do most of my work. To be recognised in that way is a really nice thing.''
It was also exciting because the paper outlined the discovery of living examples of the snails which had been thought to be fossils.
''I'd never seen one until I went to Te Papa last month.''
Prof Smith said scientists never named species after themselves but it was common for them to be named after their partners or characteristics of the species.
She thought they might be the only University of Otago couple to have two species named after them. It was a nice thing to happen to the couple, who had been married 29 years this month, they said.
''Our son, David, wants to do a [school] project for biology on Dad's snail.''