A welcoming, pedestrian-friendly main shopping street for Dunedin is ''finally imminent'', Mayor Aaron Hawkins says.
Dunedin city councillors voted yesterday for a one-way George St between Frederick St and Moray Pl and for the traffic to flow north to south in a space shared with pedestrians and cyclists and fostering social interaction.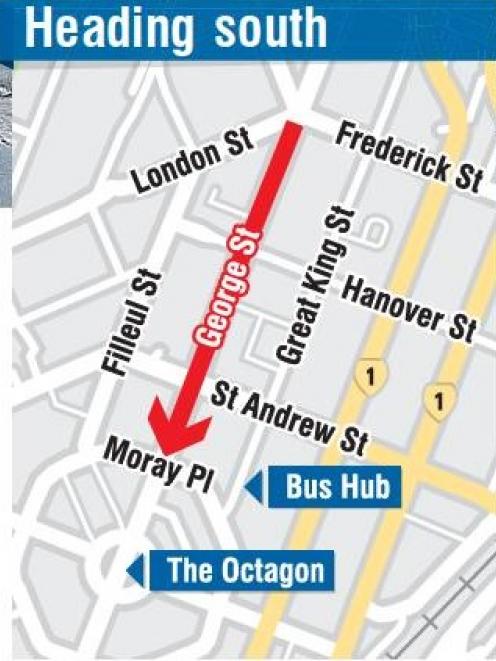 It should be operating from early 2024, after extensive work below and above ground from early next year and following a decade of planning, twists, turns and debate.
''What we want from this is the safest, most accessible, most inclusive, vibrant city centre that we can build,'' Mr Hawkins said.
''We want a destination for everyone that tells our stories.''
A one-way George St was the best option available for getting there, he said.
''Why wouldn't we seize the best opportunity that we have?''
Replacing old pipes was necessary below ground and a revamp was needed above ground, too, he said.
A detailed business case presented to councillors showed the city's transport network would be able to accommodate a one-way George St, he said.
Referring to climate change, Mr Hawkins said he did not want to pursue a revamp that ''builds in car dependency for another generation''.
However, it was not all one-way traffic at a lengthy council meeting yesterday.
Cr Jules Radich led calls for an alternative two-way design, arguing it was preferred by retailers and building owners.
Cr Radich said one-way traffic was the most polarising option and he disputed the claimed safety benefits tied to the concept.
Cyclists being allowed to ride in both directions could create a hazard, he said.
Cr Andrew Whiley noticed a lack of commentary in the business case about how traffic patterns could be affected by construction of the new Dunedin Hospital.
Council infrastructure and development general manager Simon Drew said information about the planned hospital's entries and exits was not yet known, making traffic modelling difficult, but there was room in the network to accept traffic displaced from George St.
Filleul and Great King Sts are expected to be prominent in this.
Councillors voted 9-5 for one-way traffic in George St and they then voted 11-2 for the direction to be south, towards the Octagon.
Cr Whiley abstained from the second vote and Cr Doug Hall stood aside from the debate and voting.
A southern direction was favoured because it would bring traffic towards the central city and allow for a better solution to the problematic five-way intersection at Pitt, London and Frederick Sts.
Cr Carmen Houlahan said the business community had been asking the council not to press ahead with one-way traffic in George St.
Cr Lee Vandervis said there had been a ''wearing down of wide resistance to changing George St''.
Cr David Benson-Pope said a $60million investment in the broader city centre upgrade was overdue.
Cr Steve Walker said motorists using George St as a through route did not get retailers' tills ringing.
Deputy mayor Christine Garey said one-way traffic was the best option for people who were vulnerable, such as those with disabilities.
Noting the area would need more than the council's street makeover to be successful, Cr Garey added businesses needed to provide good service.
Various opinions were expressed during a public forum yesterday morning.
Otago University Students' Association representative Mhairi Mackenzie Everitt said Dunedin had fallen behind other cities in creating an accessible, welcoming and safer city centre.
CCS Disability Action Otago representative Mary O'Brien said councillors' decision-making would influence liveability and wellbeing in the city.
Automobile Association Otago district chairman Malcolm Budd said a one-way George St would increase traffic congestion in the area.
He called for a 20kmh speed limit in the street, because the planned 10kmh limit would be unrealistic.
Generation Zero representatives said a one-way George St was an essential step towards a sustainable city.
Making it a ''pleasant location'' would attract more people to it.